There is so much trash on television these days, I'm almost ashamed to admit when I get hooked on a show that is something other than CNN, or The Daily Show (then again, depending on which way you lean, either of those could very well be considered be trash too...). For the most part, we don't watch very much TV, but when we do find something of interest, we quickly assign it a Season Pass on Tivo and against our better judgement, will plant ourselves in front of the television to watch episodes back-to-back-to-back.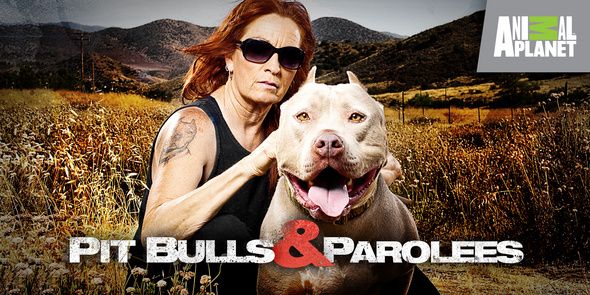 We recently discovered the show Pitbulls and Parolees on the Discovery Channel and because we are animal lovers and share a dream of adopting a pitbull someday, we were instantly hooked. As much as I am fascinated by the show, it also makes me mental. It is awful in the sense that I cannot watch a single episode without sobbing like a baby and obliterating an entire box of Kleenex, but it is equally amazing, because the show has given this rescue organization so much exposure and has raised awareness about the heartbreaking and false stereotypes about the pitbull breed, in general.
In each episode, the story line for both humans and canines will inevitably pull at your heart strings and propel you to want to do something. We watched a heartbreaking episode recently of a 14 year old bull mastiff affectionately named "Alessandro" (Season 3, Episode 8) and it was enough to have me dramatically throwing myself across our kitchen island, burying my head in my arms and sobbing like a baby. You think I am kidding? The "story" behind each rescue infuriates me and it makes me want to rage on and on (and on) until I am blue in the face about how baffled I am that people can be so irresponsible, heartless and cruel. Abandoning a chained animal under the hot sun without food or water for days? I absolutely cannot wrap my mind around this. But I digress.
This show is just a painful reminder that there are thousands of rescue organizations like these that exist all over this country and that there are hundreds of thousands of suffering animals in need; on our island alone, our chapter of the Humane Society is overflowing and animal rescue organizations struggle to take in any more animals because of financial (and space) constraints. It is an ongoing problem that weighs heavily on my heart and is calling me to action; I want to do more.
All sarcasm aside, this is a show that will resonate with dog owners and animal lovers, everywhere. It makes me grateful for the power of television---of reality TV, believe it or not. Regrettably, the show can only hi-light a tiny percentage of the cases of animal abuse and neglect that exist in this country, but as far as raising awareness and shedding light on the reality of this epidemic? It's a start.