When I woke up this morning, my heart sank just a little bit. I pulled back the curtains and peered out at ominous skies and rain. More of it. And according to my calendar, today is June 25th; we are already into SUMMER, but it appears that Maui didn't get the memo.

I got up, showered and didn't bother styling my hair, because let's be honest, rain would mercilessly put to rest a blowout and cute curls...Murphy's Law, right? I quickly got dressed, packed my bags and grabbed the To-Go (disposable) cup of coffee Hubs' had graciously prepared. And it isn't until I cross the threshold of our front door and out into the day, that it gets good.

The rain is falling and I'm annoyed. My new outfit is already wet, I look down at my laptop resting neatly in my laptop bag which I now notice is unzipped. I am gingerly walking across the small stretch of lawn, my feet squishing through puddles. And mud. And now my sandals are soaked. I finally make it to my car and realize that my car keys are in my purse, which I now have to fish around for, while standing with an open laptop bag, a coffee cup which has begun TO LEAK FROM THE BOTTOM beside a car whose locked door is mocking me. When I finally get inside, wet and soggy, my mood has plummeted and I'm sour. Which is par for the course when the first few minutes of my drive look like this: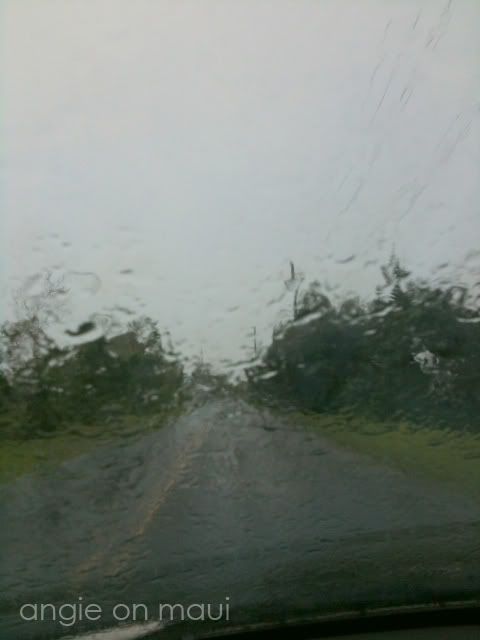 Yaaaaaayyyyy...Summer?
Sometimes I'm not as grateful as I should be. I may say that I'm grateful when deep down, it might not be something that I completely feel in my heart. And it's humbling, really, to think that I meditated and prayed about Philippians 4:11-12...just yesterday! Why am I letting such petty things affect me, when I have so much to be grateful for? Have I already forgotten the message from the day before? Was my morning already so awful that I couldn't see the gift of potential underneath it all?

With eyes wide open and a now-pliable heart, I began to think about how nearly everything I found as a negative, could be seen as a blessing if I just shifted my perspective a bit:

That new outfit that was now wet? It's a NEW outfit, that I had the means to buy.
The laptop that was getting rained on? It still works; I'm using it right now.
The rain and the puddles on our lawn? The earth needs water, and we are fortunate to have it.
Those sandals that were now soaked? I should be grateful that I even have shoes on my feet.
That leaky coffee cup? I have a loving husband who makes coffee for me every.single.morning.
The car keys I had to fish around for? They are keys to a car---a car that is paid for.

Naturally, thinking these thoughts lifted my spirits. And as I'm getting onto the highway, I'm suddenly grinning from ear-to-ear, because it was as if God said: "Child, now you're beginning to understand...".

What could have easily been mistaken as an awful way to begin my week has actually been a much-needed reminder to be thankful in ALL circumstances. I've got a good life. No...I've got a GREAT life.

* * *