I am happy to report that it is finally beginning to feel like Fall around these parts. Not only did I open my eyes to a brief window of blustery weather earlier this week, but the temperatures have dipped just enough so that we wake up in the mornings feeling like we are freezing, and then laughing pitifully at ourselves when our digital thermometer reads a balmy 70-degrees. Still, I'm kind of loving it.
What has helped bring Fall to us here on this tropical island, is my sweet Momma on the mainland. My parents are so thoughtful and send us random care packages throughout the year. I say this affectionately, of course, because everything is always so personalized (there are always treats for the three of us: Phil, myself and our kitty, Grace) and the gesture is just so kind and loving. Thank you, Mom and Dad...love you guys!
My Momma is notorious for remembering tiny comments I make in passing, and then capitalizing on them (like the time she sent me this care package). I had mentioned that I missed fun stores like Bath & Body Works and The Body Shop not because I was suggesting that she send me goodies, but because at the time, I was really frustrated with the lack of choices we have out here (I am completely aware how shallow sounds; I realize there are more important issues than shopping...just keeping it real). True to motherly-form, my Momma delivered. In one of our recent care packages, she sent a little Fall my way: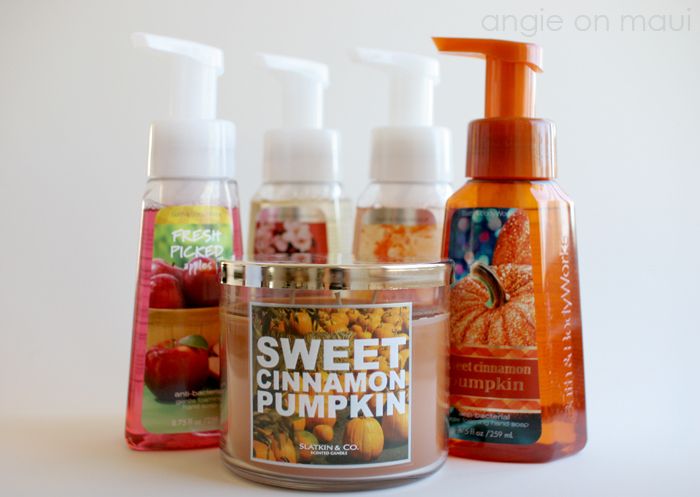 That sweet cinnamon pumpkin? YES, PLEASE. Now our home (and our hands!) smell like Fall happiness. My Momma has sent me Slatkin & Co. candles in the past, and they have quickly become one of my favorites; they are powerfully fragrant and burn so clean...two important factors to a crazy-obsessed, candle connoisseur like myself. We've been burning spicy, cinnamon-y candles since the first of the month, so we are definitely feeling Fall right about now.
This weekend, I think I'll bake some pumpkin bread. Ohhh, yeah.