Yesterday was my first day at my new job. Nervous and excited, I woke up extra early and was out of the house half an hour earlier than I needed to be. I laughed at myself for this very reason, but I'll take this kind of enthusiasm every day of the week and twice on Sunday.
It was a great first day; any nervous anticipation I had with this new opportunity was quickly diffused by the relaxed meeting with my boss first thing this morning. We discussed marketing and strategy, set quarterly goals and bounced ideas off one another throughout the day. It was an eye-opening first day; it felt so refreshing to know (and feel) that my opinion is genuinely valued and that my role is an integral part of the business' success. And while I am not naive enough to think that every day will be like today - it is work after all - I am celebrating the moment; I love and appreciate the energy of my new environment. I'm motivated by the challenges and opportunities for growth that lie ahead. I am pumped, people.
I was so immersed in the day that by the time I left this afternoon, I realized two things: (1) I totally forgot to eat lunch, and (2) I actually worked an hour longer than I needed to. How's that for a first day?
Phil and I exchanged a few texts while I was sitting in my car and getting ready to leave the parking lot; when he asked me how it all went, I may or may not have actually used the word "fun" to describe my day. And like icing on a cake, when I made it home, I got out of my car, looked up and saw this: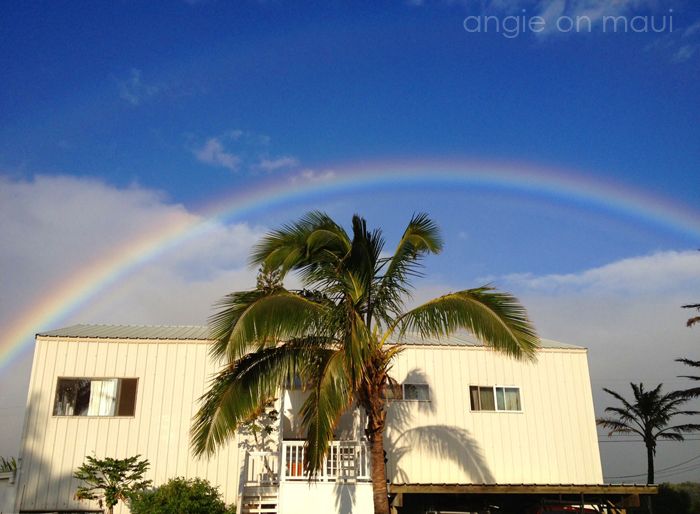 I had been so preoccupied with my day and the emotions surrounding it, but this beautiful display now had my attention and reminded me that I was forgetting something. I was forgetting Him in all this. So I prayed. Right then and there, I thanked Jesus for teaching me patience...patience with myself and my situation, and for reminding me to trust in the Lord's perfect timing. I thanked Him for his grace and for my circumstances (even the painful ones that tested me, stretched me and forced me to grow), for they all led me to where I am supposed to be.
Right here, right now.
God is awesome, like that.