It's Monday night and I'm sitting at the kitchen table, relishing my second cup of coffee this evening. I feel the need to mention this, because I am gifted in the sense that I can drink coffee right before bedtime and be unaffected. That, or I just have a serious caffeine problem.
Admittedly, I am playing catch-up on my gratitude posts. I wish I were able to post these daily, but we've been crazy-busy as of late and blogging has taken a bit of a back-seat for the time being. This is a hard pill to swallow for a control-freak like myself, but it is what it is...if gratifyingly busy days are my biggest problem to date, then I'll take it.
Day 15 happened to be my birthday, so it goes without saying that I am grateful for another year on this earth. It's hard to celebrate your birthday when it falls mid-week and you've just started a new job less than two weeks prior, but Phil still managed to spoil me and has extended the celebration, so it's all good.
I woke up to a number of gifts, one being a surprise trip to the Big Island next week for a little rest and relaxation with my boy. SO excited for that; we may only be island-hopping, but it's still nice to get away and do a little exploring.
I went to work and hadn't been there more than an hour when a special delivery found its way onto my atrociously messy desk: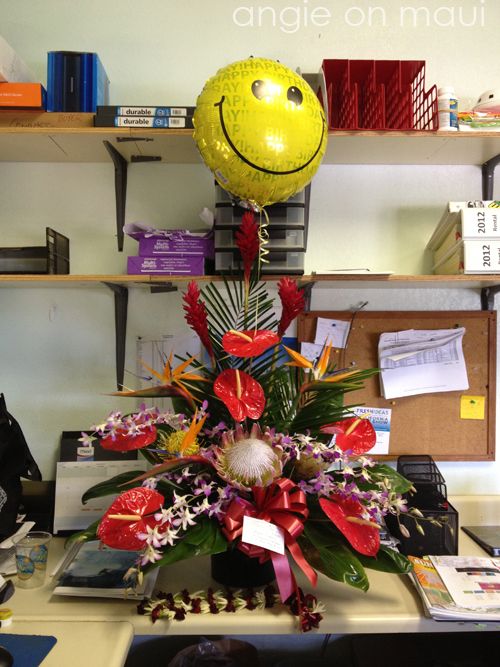 (Note the lei he sent me off to work with that morning, too!) I love that even after all this time, Phil still does things like this to make me feel special and loved. What girl doesn't like fresh flowers? Assuming you aren't allergic, of course. I was able to enjoy the flowers at my desk on Thursday and Friday but brought them home with me for the weekend. The sheer size of the arrangement was magnified when I tried to maneuver that thing into the front seat of my car: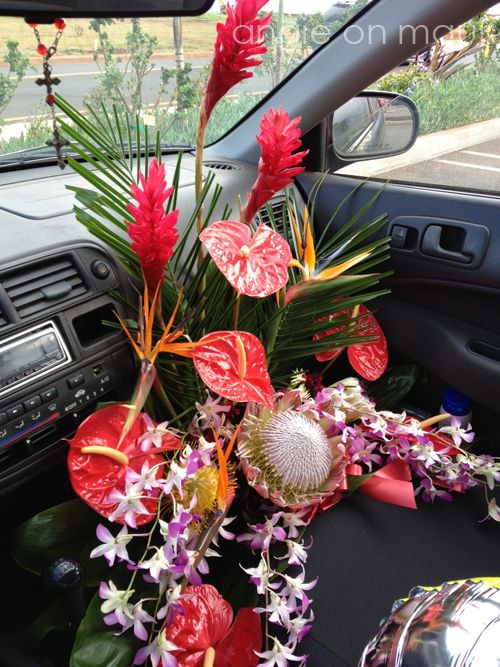 We went out for a celebratory dinner that evening at one of our favorite restaurants, primarily because I had also lifted my 7-week, self-imposed "detox" program and wanted a glass of wine AND dessert. And I got it. And it was very, very good.
Normally, I get a little withdrawn and introspective around this time every year, but there has been a wonderfully fulfilling shift in my heart that feels like a birthday gift in and of itself. I spent a lot of time in reflection, prayer and gratitude over having lived another year in this beautiful life that I don't deserve; as I get older, where it is easy to feel discouraged at the idea of aging, I'm learning to embrace the experience: the years that are packed with opportunities to live, learn and grow.
I'm lucky to be here.
We all are.