When it comes to spur-of-the-moment, all-or-nothing, split-second decisions all in the name of personal-betterment, I reign supreme. I am the Queen of embarking on lifestyle changes that push you and stretch you and challenge you. I feed on that kind of motivation and have been known to take things just a leeetle bit too far. But that's really all just a matter of perspective.
Phil and I are on a two-week Jinner kick. Jinner isn't an actual word, just a lazy throwing together of the words "juice" and "dinner". We have talked about juicing for months, but never pulled the trigger because I had become exhausted with the psychotic research I conducted, reading reviews and comparing brands, specifications and prices. When all was said and done, I didn't want juice. I wanted a drink. And so I shelved the idea. Until recently.
It was a Saturday afternoon and we were out for lunch at one of our favorite restaurants. From a menu of at least twenty healthy choices, I chose whatever had fries with it. As I was devouring my baked chicken sandwich and dipping said fries in mayonnaise, I made some flippant comment about feeling gross and bloated and wanting to lose weight (put down the fries...step away from the mayonnaise), and how I felt so burnt out and exhausted and unmotivated at the end of the day because of my work schedule. Phil is the bomb, because at that moment, he single handedly killed two birds with one stone, proposing that we start juicing for both the health benefits AND to give me a break in the kitchen, as he'd be doing all the juicing and clean up.
Twist my arm, why don't you.
That afternoon, we went to Costco and bought the only brand of a juicer they had on the shelf. I'd already done research on this one and wasn't too impressed, but conceded because I knew that if something went wrong with it, we'd simply return it. It's been almost two weeks and I couldn't be happier with it (in all fairness, I can't really say that, because I haven't even touched the juicer and have no idea how to take it apart/put it together, but I CAN say that I am happy with what it produces)!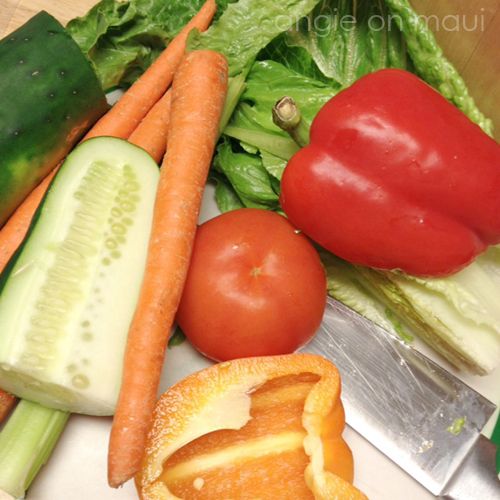 We are juicing breakfast (fruits) and dinner (veggies); lunch is the only solid meal that requires chewing, and even then, I've switched up our menu quite a bit. I'm so proud of Phil for taking part in this and really sticking with the program. Where it would be so easy to give into temptation and cheat, we are both holding one another accountable and sticking to our agreement. And true to his word, I have not cooked dinner or washed dishes in TEN days. I rather like this agreement, if I am being honest!
Anyone who knows me well, knows that I didn't just stop with two juiced meals, right? Because that is just preposterous. In addition to juicing 2/3 meals a day, I've also given up starches, alcohol and refined sugar. It's been nearly two weeks and just as I knew I would, I've already lost 7 lbs and I feel great. Phil is anxious to get back to "real" food and be able to enjoy a beer in the evenings after our two weeks are up, but I think I might just take the juicing a bit further and see the detox program to the end. This is the third, 6-week detox (of my own) I'm doing this year, so when my birthday rolls around next month, once again I will be celebrating with a glass of wine and some kind of cake. :)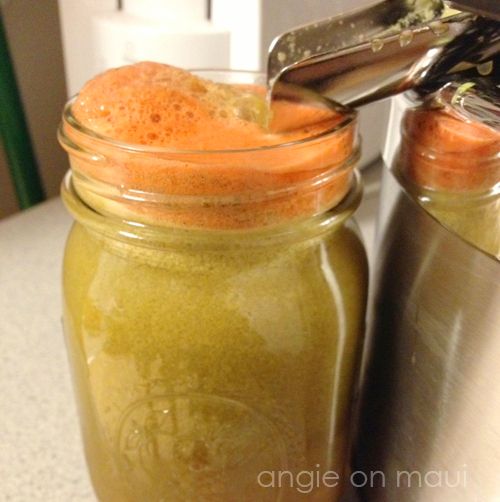 We've yet to follow a recipe in the book that came with our juicer and instead just made up our own. Phil throws anything and everything in there and although it looks disgusting, it is surprisingly very, very good! The photo above is a combination of spinach, arugula, lettuce, cucumber, carrots, bell pepper, tomato, celery and a splash of Tapatio (the Tapatio was my idea, and an amazing one, I might add). And it should be noted that I don't even LIKE hot sauce.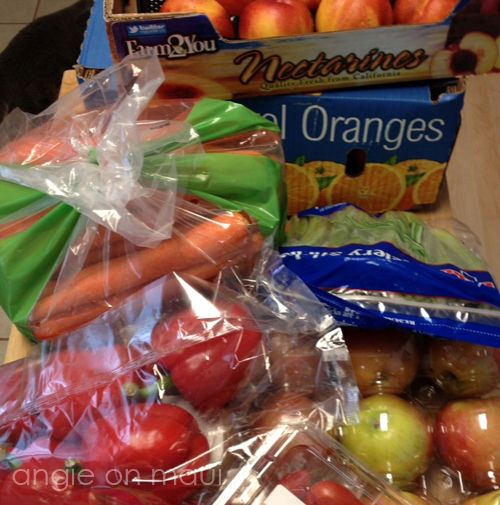 The one thing that I will say about juicing, however, is that you go through a TON of produce. And good, fresh, produce isn't cheap! We've been to both the Farmer's Market and Costco twice in the last ten days to stock up on fruits and veggies; it's only Tuesday and we are already running low again. A bit of a hassle? Sure, but we can't put a price on our health now, can we?
Do you juice? Is there any recipe of amazing-ness we need to try?