I had a different post planned for today, but that all changed on the drive home from work this evening, when, without saying a word, we found ourselves pulling over on the side of the road to witness this (I love that we're always on the same wavelength):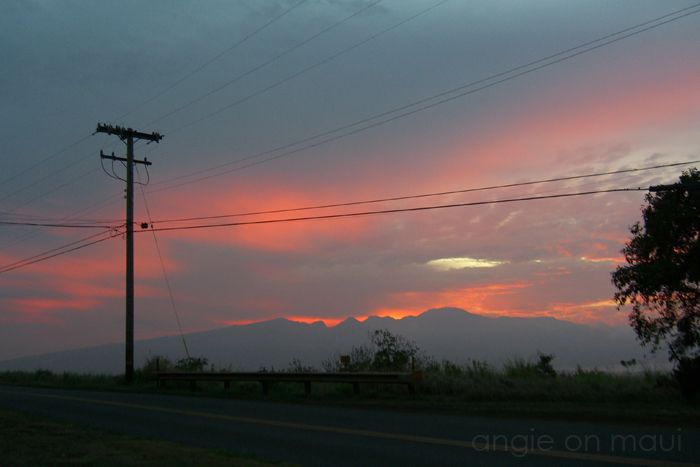 Just for a second, let's pretend that those power lines don't exist, and while we're at it, let's also pretend that this photo wasn't snapped with the sad little point-and-shoot that is buried in the abyss of the handbag I carry. Instead, just take a moment to appreciate with childlike fascination, this fleeting moment captured like a june-bug in a mason jar. Periwinkle skies and cotton candy clouds, a mountain range aglow like molten lava and a quick fade-to-black to the tune of crickets singing in the distance. This is what "peace" looks and sounds like.
It wasn't long before I realized we weren't alone in our sunset-soaking-endeavor; others had pulled over along the stretch of country road to do the same and this made me smile a bit inside, because it meant that they, too, were taking the time to slow down and drink in the splendor. Moments like these, these brief windows of peace, they are gifts that are freely given to us and I often wonder why there aren't more of us accepting them? Especially in this day and age, when we're all moving faster than we need to be, when we're tuned-in to technology more than we are to nature and when many of us are living to work rather than working to live.
Our lives out here on this tiny island are a lot simpler these days; they pale in comparison to our old lives in San Francisco and I have to say that I rather like it that way. That's not to say there still aren't superfluous "things" that I could stand to shed because life would be less complicated without (I'm working on that), but overall we've made some huge adjustments and I think we're better for it; we have more room in our lives to appreciate the little things we've been guilty of taking for granted in the past.
* * *
At least one day this week, grab some Six o'clock Splendor wherever you are; watch the sunset, take a walk in the cool evening or look at the moon. Get outside, get close to nature and for five minutes, just BE STILL.