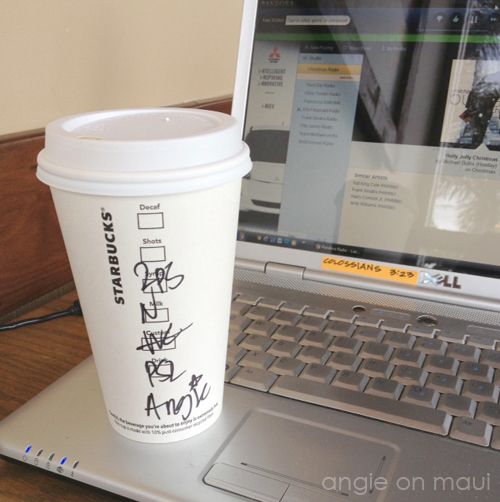 This was a recent IG photo I snapped, with a caption that read: Listening to Christmas music and sippin' a pumpkin spice latte. Serious season identity crisis over here. #noshame

It could be argued that it isn't healthy to pine for a season that isn't yet here, but by that mentality, that's like saying you shouldn't dream or yearn or desire for what is yet to come. I'm all about living in the moment, and in my mind, that's exactly what I'm doing. In this moment, I'm relishing the fact that on a tropical island where Fall is virtually non-existent, you can find it at Starbucks, where a barista with a smile will serve it to you in a cup, complete with a sprinkling of cinnamon. And in this moment, I'm also relishing that Pandora withholds judgement when, on this October day, I select the Christmas Radio station on my playlist and unleash all kinds of holiday cheer. No shame.

*This* season is my favorite; the last quarter of the year - the brief window where folks are settling in after a busy summer and life seems to slow down. Temperatures dip, and everyone wants to get all cozy with warm drinks and fuzzy sweaters and fireplaces that beckon. The time of year when my birthday, Thanksgiving and the magic and joy of December blend together beautifully like a perfectly packaged gift that keeps on giving; it's my fountain of happiness, and I'm in it.

And speaking of seasons, I'm entering a new one as I type this, and one that I'll share more about in days to come. It's a season that is long overdue, but I'm taking the proverbial bull by the horns and I'm Choosing Joy, baby. I have prayed for and about this for so long, and as always, He delivered, in His perfect timing. God is so faithful.


Rejoice always, pray continually, give thanks in all circumstances;
for this is God's will for you in Christ Jesus.
1 Thessalonians 5:16-18