I'm not much of a cook; I can count on both hands how many recipes I know by heart (and ones that elicit joy and praise from my husband) and most--if not all--of what I prepare are really just replications of things my Momma made for our family while I was growing up.
Sometimes, I will peruse Pinterest for recipe ideas; the stunning visuals breathe ambition into me, but then when I skim the list of required ingredients and I realize that I wouldn't even know WHERE in the grocery store to find said ingredients, I wind up leaving the site because seriously, those recipes are WAY out of my league. But that doesn't mean that the desire isn't there. More on that, later.

Luckily for me, Phil is so easy to please; I could make pasta 365 days a year and he'd be a happy--albeit chunky--boy. Me? I could live on salads - there are so many different variations (yes, I realize salads do not qualify as "cooking"). On the upside, I can also marry the two to create a meal that is satisfying for both of us! Enter the world's easiest recipe (previously posted on Kelly's blog)...

Mango Salsa Pasta Salad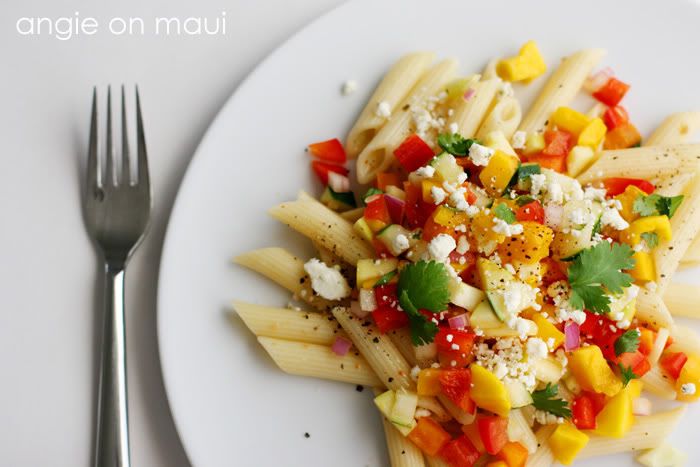 1 box of penne pasta (can also be substituted with whole wheat pasta)
2 mangoes
1 apple (golden delicious)
1 red bell pepper
1 orange bell pepper
1 small cucumber
1/4 red onion
1 Tbsp lemon juice
Cilantro
Feta cheese
1/3 cup Light Italian dressing
Salt and pepper to taste
....and the most important ingredient of all: LOVE :)
Cook the pasta according to the instructions on the box. Drain and cool. Dice your fruit and veggies (leave out the cucumber seeds - they tend to make the salsa watery), combine and set aside. In a separate bowl, whisk the lemon juice, Italian dressing, salt and pepper. Toss in the pasta and portion out. Add your fruit and veggies on top, sprinkle with feta cheese, add salt and pepper and additional cilantro if needed.
This has become a favorite in our home, which bodes well for me because it is quick, easy, and requires very little effort on my part. Hope you enjoy!