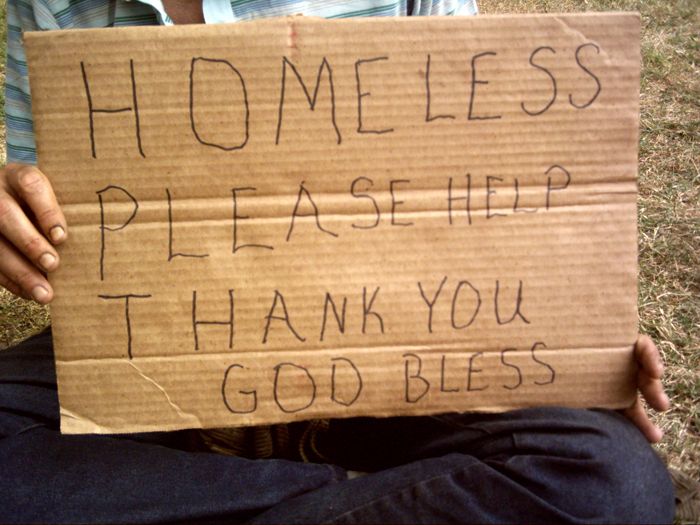 I have seen variations of this sign throughout my life more than I care to admit; the homeless situation is one that physically hurts my heart, because it seems completely unfathomable that this even exists here in America, one of the richest nations in the world. But that's not what this post is about. Exactly.
* * *
A few weeks back, I witnessed something that really disturbed me and eventually had me experiencing a whole gamut of emotions, I couldn't even write about it until now.
It was a delightful Friday morning; I had parked myself at the corner table in the back of Starbucks, happily sipping away at my coffee, listening to music on my iPad and working on a journal devotional for She Reads Truth. My solitary bliss was interrupted when my eyes were suddenly drawn to two individuals who had made a beeline to the back of the coffeehouse and then huddled together at the table right next to mine.
I recognized one of them almost immediately; a dirty and disheveled young kid who--although he doesn't look a day over seventeen--is clearly homeless. Every day, he stands at a busy intersection holding the same tattered cardboard sign that reads: "Homeless. Hungry. Anything Helps. God Bless." with a dirty backpack at his feet. And every time I see him, pain fills my chest, because I begin to wonder what happened in this boy's life that has brought him here?
On this particular morning, as he slipped his backpack off his shoulders and propped his cardboard sign up against the wall, the familiar wave of sadness overcame me, but this feeling quickly vanished when I studied his calculated movements and realized what he was doing.
At 11:00 in the morning, at the table right next to me, this boy was cutting cocaine.
(Let that sink in for a second.)
And right after that, he pulls his cell phone out of his pocket, finds his charger and then plugs it into the wall while he and his friend then take turns locking themselves in the bathroom for abnormal amounts of time.
I know. Right?
Given that I had my iPad right in front of me, on instinct, I start e-chatting with Phil via Skype. And by this time, I'm no longer sad or surprised, I'm just pissed. We exchanged a flurry of messages, most of mine laced with judgement and criticism and anger at being played for a fool. And Phil, always calm and forever the voice of reason, begins to respond to these messages with a perspective that diffuses me: while I was busy feeling angry and bitter and taken advantage of, here was a kid with an obvious drug problem, desperate enough to lie and beg to feed his addiction. This boy didn't need judgement, he needed prayer.
And then I looked down at the journal entry I was working on and the scripture I'd been studying that morning: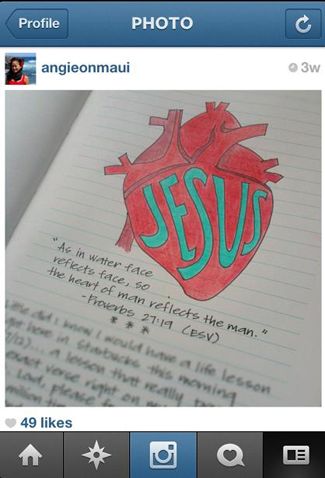 Proverbs 27:19. "As in water, face reflects face, so the heart of man reflects the man." (ESV)
My cheeks burned and I felt a sudden shame in my heart for my self-righteousness; I sat with that for a few minutes before thanking God at that moment for His loving and gentle reminder that we are all His children, every single one of us. And that same love He has for me, he also has for the lost, little lamb that sat at the table right next to me.
It's been three weeks and I've seen this same boy at the same intersection and again at that same Starbucks. And now instead of being quick to judge, I say a silent prayer for him, and I ask God to show me what more I can do. I am humbled every day by what God is doing in my heart and how I am learning how to be quiet enough and still enough to hear Him and feel Him in situations I might not have otherwise. Our God is a kind, loving and merciful God.
Ha. And as I am typing this, Love Them Like Jesus is playing on Pandora. :)