You know how it is in the movies, when someone awakes from a nightmare, suddenly upright in bed, their heart racing and tiny beads of sweat dotting their brow? That was me last night (and in case you are wondering, waking up like that is every bit as wretched as you can imagine). With adrenaline pumping and a blood pressure reading that likely exceeded the margin of good health, I tried unsuccessfully to corral any semblance of peace and calm.

A quick glance at my phone told me that it was 1:00am and I was tucked safely in bed, not buried under case files or popping in and out of a courtroom, as was the norm in the days of my old life while working for the DA's Office.

My old life.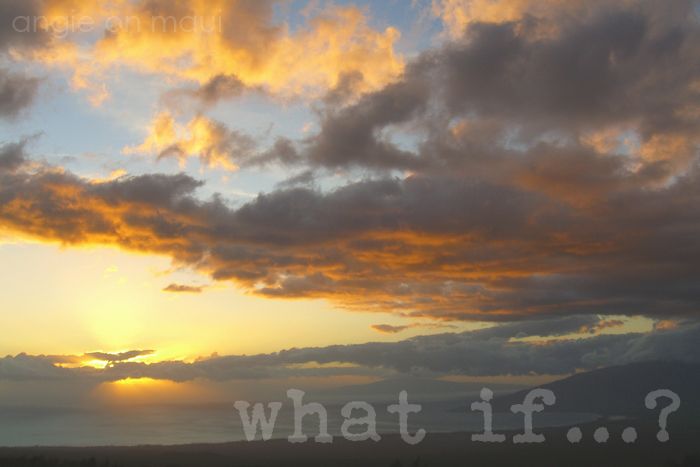 So much has happened since we threw caution to the wind, packed up our home and made the move out here. I think back to the day that Phil proposed the idea to me; we were taking a walk around the neighborhood, holding hands and enjoying the sunshine (some things never change). He chose his words carefully, and despite my rush to answer him with an immediate "NO"--change is scary!--we spent the next few days talking it over and through until finally, I agreed. Because at the end of the day, I trusted him.

The transition was not without its hiccups and I was homesick for a very long time, but through it all, it was the best decision we could have made for ourselves and our relationship. It was a wonderful exercise and reminder (which I think is healthy in all marriages) that we are a TEAM, and the need to rely on one another strengthened our marriage at the deepest level.

But still I wonder, what if we never moved here? What would our lives be like today?

I know that I'd likely still be buried under case files or popping in and out of courtrooms.

I know that we'd still just be dreaming.

I know that we would never have had the incredible experience of spending our first two years here living in a condo on the beach.

I know that we would not appreciate the beauty and magic of our everyday sunsets.

I know we would never know rainbows like we do today.

I know we would never have had life-changing experiences like this. Or this.

I know that this blog would never have been born.

I know that I'd still be searching for God.

* * *
Every now and then, Phil will turn to me and ask if I'm happy. If I'm good. And the answer is, emphatically, yes. I'm so happy we're here. I'm so happy that Phil had enough courage for the both of us. I'm so happy that our "What If" is "What Is".

And when Phil hears this, he smiles and says: "A happy wife makes a happy life."

Word. ;)