I'm not a morning person (AT.ALL.), but Phil really wanted to make a trip to the Upcountry Farmer's Market this morning, and being the rock-star wife that I am, I set the alarm for a 6:00am wake-up call. On a Saturday morning (which really pains me to type). We got ready in record time, Hubs' brewed us some coffee and we were out of the house by 6:50am. I was quite impressed, if I do say so myself.
Strolling in the early morning sunshine with a cup of coffee in one hand and my husband's hand in the other? Well, that's just Simple Joy # 894,571. I love little moments like these; it makes waking up early on a Saturday morning just a little more tolerable. We perused the booths, made our choices and stocked up on colorful produce and freshly cut flowers that, although they scream Welcome, Fall!, they still have a little bit of an island-twist, with unique proteas in bright shades of yellow and orange.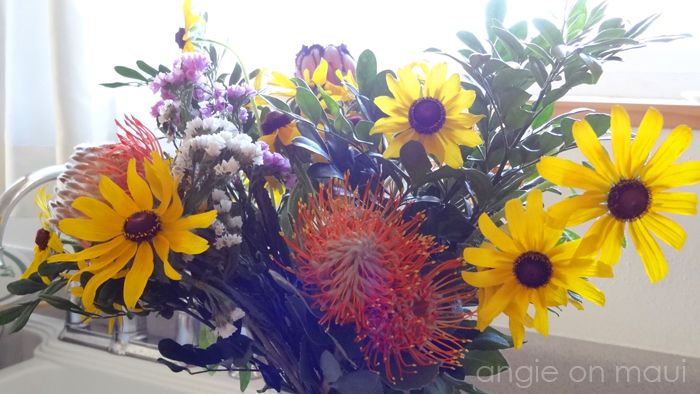 We've been home for over an hour, I'm sitting at the kitchen table blogging while Phil is working on a commissioned video edit and it's only 9:30am. That's the cool thing about actually waking up at a respectable hour on a weekend; you have so much of the day ahead of you.
Our plans for today include a little beach time, a trip into town (I love that our country living allows me to say that: "...into town"), and then prepping the house to have our friends over for dinner tonight. A mellow kind of day, which feels perfect on this first day of fall.
* * *
Unrelated, I've been feeling a little hermit-ish as of late. As ridiculous as this may sound, I think a lot of it has to do with the change of seasons; despite the blue skies and warm sunshine, my internal clock is on high-alert now that the sun is setting earlier, and I'm feeling a hodge-podge of things that are pretty standard for me this time of year: nostalgia, comfort, renewal and a blissful sense of quiet in my soul. Most days I want to curl my fingers around a piping hot mug of coffee or tea and settle in with a good book next to a burning candle with a name like Autumn Sunshine or Fall Harvest, while listening to white-noise of the rain outside.
I really, really love this time of year.
And it being the first day of fall and all, I'm already thinking of new boots, despite the fact that I live on a tropical island. Is that wrong?
Happy Weekend-ing.