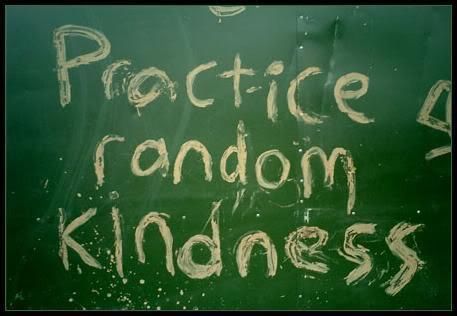 {via}
Kindness Inspires. If you have already entered my Maui inspired, 13-piece giveaway, then you know the only mandatory entry I've implemented is that you share an act of kindness you've passed along to someone, or one that was passed along to you. As your entries have come in, I've been so moved and so inspired by your kind and generous hearts. This really is the BEST part of about this giveaway; I've enjoyed reading about your experiences and love that you're all practicing kindness...just because.

Every act of kindness--no matter how small--has an impact; you're all contributing towards the greater good of this planet and its people. You may never know the true depth of what your seemingly "tiny" gesture could mean for another person, so I encourage you all to keep spreading the love. It's a beautiful thing!

* * *
All of your gifts (whether given or received) are special, but here are just a few of my favorites that you've shared. This is what Kindness looks like. This is YOU:

Heather writes:
My husband and I are currently living in China. There are so many people asking for money laying on the streets. We always try to have conversations with these people. We ask them their name and questions about themselves. They are people, eternal and loved by Jesus. We don't want to just throw money at them or in their hands but know them, love them. We always make a point to bend down low to the ground where they are and look them in the eyes and have a conversation with them. And we always tell them in Chinese that God loves them as we put the money in their hand while touching them in some way, like a hand on their back or by holding their hands. I often think, how long has it been since they've been hugged or touched? It's such a small thing. And even though it may mean nothing to them, it changes me a little bit each time. I'm humbled and reminded of God's love. :)

Katie writes:
I gave a client a hug yesterday, and today she called to tell me that she hasn't used at all over the last 24 hours...because that hug reminded her she's loved!

Cami writes:
I had my hands full with the baby and pup today and a kind stranger helped me with doors. It's little things like that that go a long way for me!

Lori writes:
There have been many acts of kindness over the years given in my behalf. But the one I am most grateful for this summer is my friendship with Kari. She is a grandmother that I met at church who is going through ovarian cancer for the second time. I was asked to be of service to her by taking her to appointments, running errands, and general help as needed. While I am always happy to help out, the real blessing has been what she has given to me...I come away from each visit with a renewed spirit of hope and strength, friendship and love. Kari has changed my life and for that I am grateful.

Suz writes:
Today I helped a lady carry a table to her car and loaded it for her. Something little but she was overly appreciative that I would do that for her.

Jessica writes:
I was at starbucks the other day and the lady in front of me paid for my drink! i was so surprised and grateful! so i in-turn paid for the lady behind me!


* * *
Thank you for sharing your random acts of kindness...they are a joy to read!

Be blessed! xo