Yesterday was one of those days. The kind of day that presented a perfectly packaged opportunity for growth and gained wisdom; prompting me, stretching me, testing me...and frankly, I wasn't in the mood. What I really wanted to do was regress to child-like behavior; to kick and scream and cry until the Universe had heard enough and eventually surrendered to my antics. But I managed to contain myself and keep it together until shortly after 5:00pm when I walked into Phil's office and declared that we needed to go out for a drink. To which he replied: "Uh-oh. What's wrong?"

We went out for dinner and I had that drink. And it's funny, really, how going out for that much-needed drink acted as the catalyst for another one of our "Life" talks; the proverbial "Where Am I Going?" conversation that begins with me unleashing for the first ten minutes and then involves my very logical and very wise husband offering his perspective and objective opinion, all without judgement. While I sipped at my martini and stabbed holes in my cocktail napkin with the sword-shaped olive pick, I vented while he listened to my stream-of-consciousness and processed my thoughts in silence. And when I ended my vent-session with a deflated wish that I could just hit the "Reset" button, he asked me point-blank: "Why can't you?"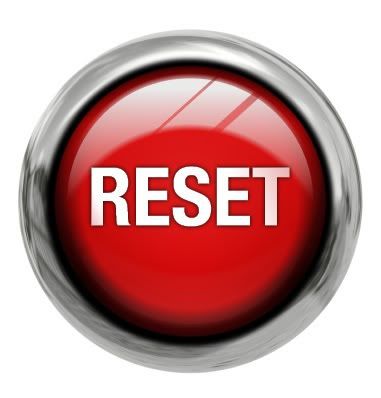 And there it is. He is absolutely right. When I think about it, it's pretty amazing that in this life, we have the freedom and opportunity to hit the Reset button whenever and wherever we choose. The only person holding me back from where I want to be, is me. Self-awareness and the ability to admit this to ourselves is the first step in making positive changes in our lives that will inevitably bring us desired results.

So what does this mean for me? Last night's conversation with my husband was just another reminder that I have a choice. I can choose NOT to settle and choose NOT to accept stagnation. I'm here, but I want to be there. I'm doing this, but I want to be doing that. I can simply hit the Reset button, find my center, refocus, and shift my thoughts and attention to what matters, even if it means I need to alter and modify both my short-term and long-term goals in the process. Where there is passion, there is the opportunity for change.

It's so easy to get stuck in comfortable and familiar patterns, but true growth is gained only when we challenge ourselves by stepping outside of our comfort zones, venturing out and discovering our true potential and abilities. After today, I have a 3-day weekend. Where my weekends might normally involve sleeping in and immersing myself in self-indulgent and luxurious behaviors, this weekend is going to be different. Each day will begin with quiet reflection and worship. I'm going to push myself to dig deeper. Work a little harder. And I will do something each day that will bring me closer to where I want to be.

This is me, hitting the Reset Button.