I slept like poop last night and woke up with a splitting headache this morning, so I stayed home today to rest and nurse my sore throat (I'm going on Day 5 with this throat thing...this can't be good) and I'm still feeling subpar. Add to that the fact that I'm feeling hypersensitive and sad over certain issues in my life and I'm just not feeling it, people. Where is my good day sunshine?!

However...a sick day meant I was able to lay around and hang out with my 11 lb. shadow all day today. She was feeling extra clingy and loving and I like to think this is because she sensed I could use the snuggles. And by snuggles, I mean she walked all over me, rubbed her sweet face all over my glasses and - depending on whether I was sitting or laying down - plopped herself right on my lap or my chest. All.the.live.long.day.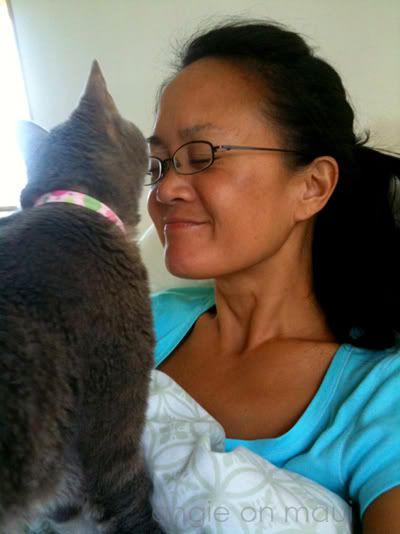 Behold...my sick day, naked-faced, I'm blind-as-a-bat glory.
* * *
I'm hoping tomorrow is a better day. This being sick thing is for the birds. And yeah, I happened to tweet from bed today, but still.