Late Sunday afternoon found Phil and I barefoot on a beach in Makena with an unobstructed view of Molokini in the distance. We arrived about an hour prior to sunset and lugged our camera gear across an intimate cove where promises of love are declared daily; this beach in particular is prime location for hundreds of wedding ceremonies and couples who hope to preserve the memory of their nuptials with a perfect photo of the infamous Maui sunset. But that day, the sky hovered above us like a gray canvas waiting expectantly for the hands of an artist; I had my doubts that we'd catch one of those awe-inspiring sunsets I wax on about relentlessly here on the blog, but I was also anxious to see what our luck might bring.

I stood at the shore watching the lazy, foam-crested waves approach, inching forward and hugging me at my ankles before withdrawing again - a romantic dance between the sea and me: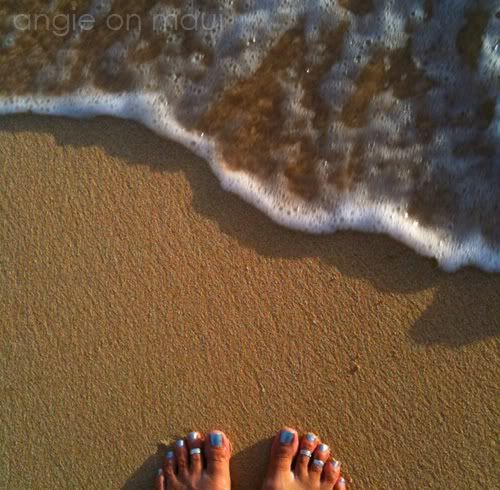 We waited for the sunset in the damp heat, hoping for a breeze that might sweep away the mugginess of the evening. We waited while I was bitten nine times (I counted) by the hungry mosquitoes out in full force. And we waited while I went to town on those bites, scratching at my skin and feeling my mood plummet.

I complained. I sighed. And I didn't even flinch when my husband called me his "little crab apple" because he knew I had long ago reached the point where I was now Hangry (hungry + angry). He is a smart man, because not once did he use it against me that I had made the dumb decision earlier in the day to skip both breakfast and lunch and opt for two Fuji apples, instead (I have horrific eating habits, I know).

But then it happened.

The skies parted and the sun made her appearance just in time to ease quickly but gracefully out of sight. I watched quietly---humbly--while the flat light of the sky transitioned to a tangerine dream: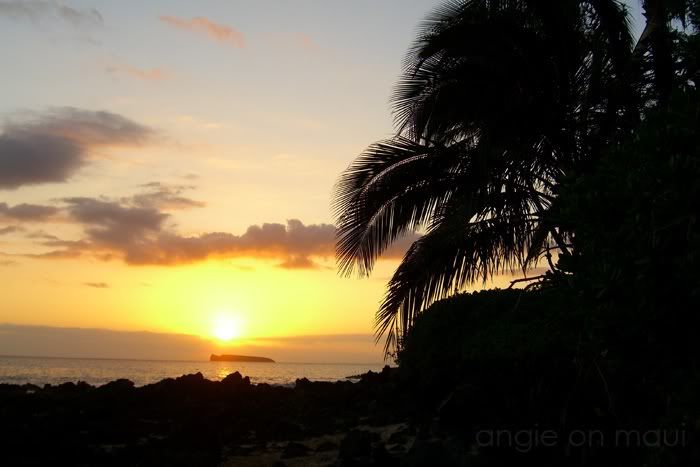 The added bonus was watching the sun descend not just in the horizon, but dipping beneath the clouds and directly behind Molokini:

Patience is a virtue. Amen.

* * *
We went to dinner afterwards. I ordered what I always do: the Asian Pear Arugula pizza. It was the bomb.