Wow...April 1st, already?

I am happy to report that I successfully made it through today without falling for any of the standard April Fools' jokes from years past. You know the ones from close friends who decide to announce their pregnancies or their broken marriages via Facebook all on the same day (So-and-So went from being "Married" to "Single" actually elicited a frantic phone call from me to a friend last year)? Yeah. I'm one of the few that actually fall for that.

* * *
As my reward for surviving the month of March, I gave myself a reprieve from (nearly) all forms of responsibility and obligation which resulted in a fantastic 3-day weekend. I stayed up late. I slept-in until at least 9:30 a.m. (all three days!). I went shopping on Friday. And Saturday. I gave myself a manicure and painted my nails a glorious shade of green while watching mindless television. I watched a brilliant and magnificent sunset (it was one of the good ones) from the South side. And perhaps the hi-light of my weekend? I didn't cook once. It was a weekend of leftovers and meals out, rounding up Sunday evening with a double-date at Monkeypod Kitchen with close friends. It was a good weekend (albeit slightly gluttonous), all around.

* * *
I received an email last week from a reader who asked why I'm not in more photos here on my blog. Up until then, I thought I was being all stealthy; a majority of my posts are laden with colorful images of Hawaiian landscapes, floral and fauna that surely, it would go unnoticed my husband's mug is on here more than mine, right? Ha--notsomuch. The truth is, I am much more comfortable behind the camera than in front of it, so it seems only natural I'd choose to share bits and pieces of our lives through images as seen through my eyes. Well, that and the fact that I'm an expert at self-flagellation and loathe having my photo taken if I don't have complete control over it (don't even get me started on "tagging" photos over Facebook. Tag me in an otherwise unflattering photo of myself and I will remove it quickstyle - like a NINJA). However. If I am being honest with myself, I would have to admit that some of my favorite blogs to read are ones where I feel a deeper connection with the author because I get to peek into their personal lives via photos of them. It's a weird realization, but one that really comes as no surprise since it is an innate desire for human beings to want to connect with one another.

You give to me, so I want to give to you. As for the self-critic in me that is too busy passing judgement? I'm gonna keep her in check. I'd like to make a bit more of an effort to get in on the snap-happy camera action by way of self-portraits. Or camera-timers. Or at the hands of others. I'm going to NOT take myself so seriously: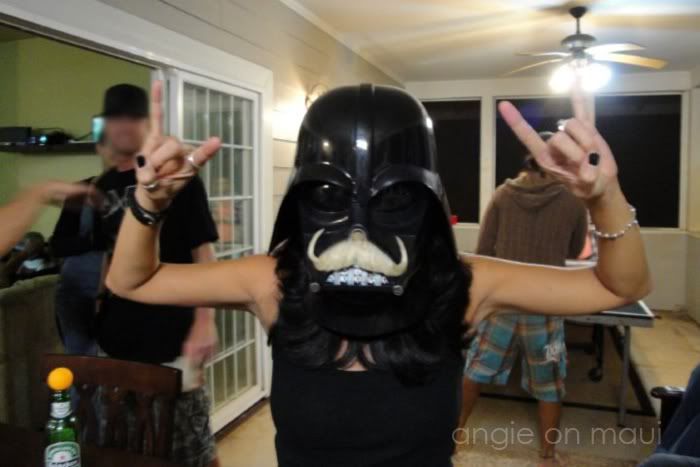 Booyah.
Welcome to April. May the force be with you.