On Friday afternoon, Phil and I waited at the airport with leis in hand, anticipating the arrival of his parents. Their trip out here to the islands has been a longtime in the making and one that almost didn't happen, so finally meeting up with them at baggage claim was a happy, joyful moment.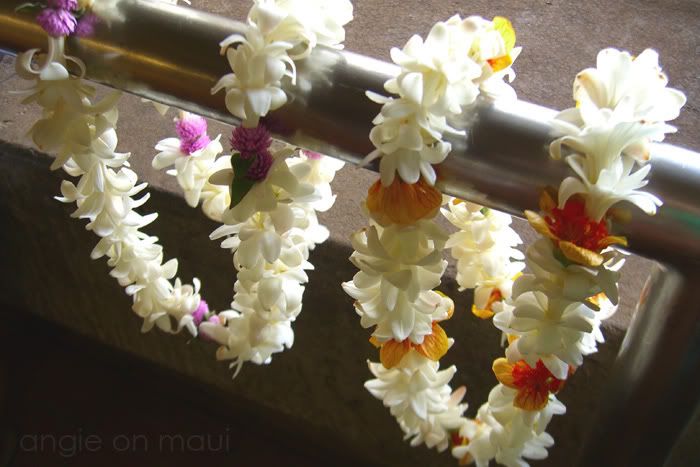 Last June, I wrote this post in honor of Father's Day and mentioned that my Father-in-Law (FIL) was recovering from a recent stroke; it has taken a year and half before it was decided he was finally well enough to travel, so this trip is a pretty big, celebratory deal.

However. In the seventy-two hours since they've been here, I have wanted to cry more times than I can count. My FIL suffered a major stroke which affected not just his mobility, but language and memory as well. It's been an arduous year and a half of therapy visits and hard work on his part, and the progress he has made during this time is nothing short of amazing. I'm happy to have them here and feel incredibly blessed that we are still able to enjoy this special time together; when I look at my FIL and see his kind eyes smiling back at me, my heart swells...but I miss him. I miss hearing his voice and listening to his wise words and sage advice. Having him here and hugging him is the same, but it is also very different.

Phil and I have had a number of age-related revelations, one of the glaringly obvious being our parents' mortality. We are now at a point in our lives where we see our parents through different eyes; no longer do we see them as the authoritative figures we were anxious to separate ourselves from, but instead, as vulnerable beings we find ourselves worrying about. This role-reversal and fear? It's consuming, but there is a comfort in knowing that it is also a rite of passage in each of our journeys. Today, I am feeling so blessed that we still have this time together. Call or visit your parent(s); make their day today.

* * *
Regarding my last post; I didn't realize the tone might have led you to believe I was planning on shutting down the blog (not a chance), so I wanted to clarify that I am only looking to change my own expectations here. I needed to re-evaluate the direction and my desire for this blog without compromising its original purpose and intent. So, for those of you who commented or sent me kind emails letting me know your thoughts, thank you...thank you for reading along! I'm still here, and I'm still writing. xo