Is it April, yet? Because I'm seriously beat. Beat like, I-want-to-burrow-deep-under-the-covers-and-sleep-for-a-month, beat. Adding insult to injury, I totally woke up on the wrong side of the bed today, sooooo yyyyeeeaaaahhhhh...I was pure sunshine for my husband this morning (
thank you for putting up with me, Phil
).
Moving on. Life, lately? Busy. And full.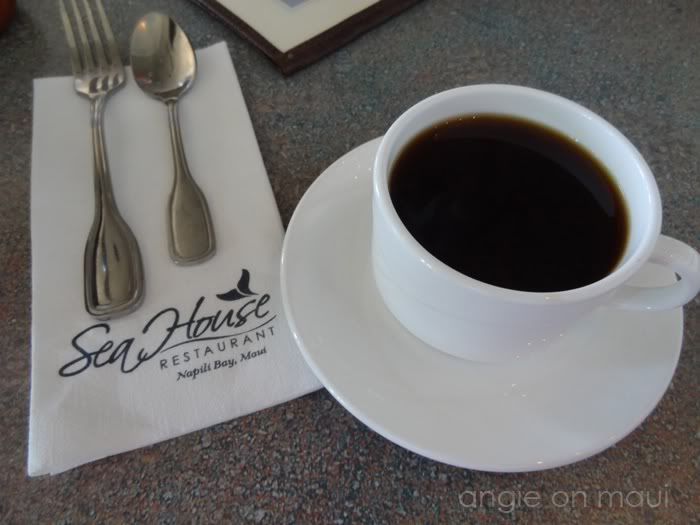 I have a new favorite breakfast spot. It's a bit of a trek from where we live, but so many variables make the trip well worth it. The view, the ambiance, the food and the generous Kama'aina discount (25%, woot woot!), I'm thinking The Hubs and I need to have brunch in Napili more often!
See that cup of coffee in that photo? I've officially converted to drinking my coffee black. It's definitely an acquired taste, but I can actually appreciate the flavor. It may have put hair on my chest, but I love me a mean cup of coffee now. And I am totally kidding about the chest hair part.
Today is one month since I went on an alcohol and sugar fast (hence drinking my coffee black). The alcohol part isn't a problem (even while celebrating a friend's birthday last weekend...at a bar!), but the sugar has been a challenge. I am craving a piece of moist, chocolate cake right now. Or at the very least, a Thin Mint from one of the FOUR, unopened boxes of Girl Scout cookies I bought over a month ago. ::sob::
The plus side to an alcohol and sugar fast? I'm down 8 pounds. Yay!
I almost destroyed my laptop and desktop computer yesterday. I spilled an entire cup of hot tea at my desk (I watched with horror as the cup fell over in slow motion...has that ever happened to you?) and was almost too late in scooping the laptop up before the tea found its way into all the crevices. With my dripping laptop in my arms, I watched as a waterfall of tea then dripped down the face of my desktop hard-drive, below. Did I mention I had just bought the tea about five minutes before? Fortunately, both computers are ok, but there is a distinct scent of chai tea at my desk. Fun times.
Spring is here! That doesn't really change anything for us since we have bright florals and sunshine all year 'round, but I like being able to say that: Spring is here!
Some of you follow me on Instagram and know that I had a pedicure and had my toes painted blue the other day. Just so you know, it looks awful. I don't know what I was thinking. Now I want a pedicure do-over.
So there it is, a stream-of-consciousness snapshot of life, lately. Interesting and relevant blog material coming soon. :)
Happy Thursday, to you.