The past few days have been filled with family time, work and play, and as much as I like (and prefer) the
Full Plate=Productivity
mode of operation, we're only five days into the month and I'm already pretty tired. But tired in a good way. As such, today's post is going to be an update, bullet-style:
This little princess senses the change in our routine and has been extra clingy and needy lately, but it's all good, because I love that she's so darn loving.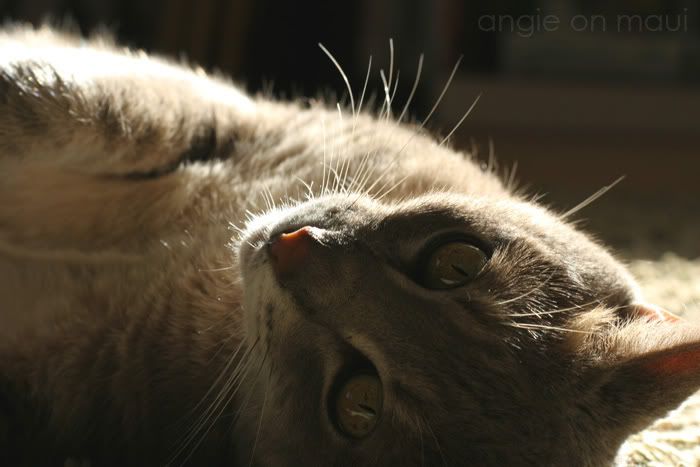 Did I mention that I'm now two weeks deep in another detox and sugar-fast? It started out with me giving up alcohol for Lent but at the last second I decided to throw sugar into the mix, because you know, I'm all about pushing the envelope. The first few days were painful (it's amazing how our bodies can become addicted to refined sugar), but I'm powering through...and I've dropped 7 pounds, so that's a bonus.
I'm going on a juice-fast; I've been doing a little research over the past few weeks and to my surprise, I've got Phil on board with me. We've researched a few different brands of juicers and are ready to pull the trigger, but I'd love your feedback! Do you own a juicer? Anyone own a Breville? Have any of you ever done a juice fast or a cleanse? Which one did you do? Any insight would be appreciated!
Project Cute: In my quest to feel "cute", I'm expanding my wardrobe horizons! I've purchased a few girl-ier pieces, sandals/shoes in lieu of slippers and crazy-inexpensive jewelry (F21, anyone?) to mix things up a bit. And amazingly enough, it's actually working. Next goal? Learn how to put on makeup without looking like a clown.
I'm slowly Spring Cleaning our home and it feels good; purging the closets and drawers of clutter is so liberating! I haven't yet tackled the art studio (and that's where it gets pretty scary), but it's on my list.
My calendar for the next few months is filled with so many people I love! I'm feeling giddy and excited and SO looking forward to spending time with family on Oahu later this month, meeting Becki (my blog friend of ten years) for the first time in April, and my Momma and stepdad coming to visit us again in the Spring! ::happy dance::
We have had a few days of rain and it really feels like winter. Me like.
The Bachelor. Oh, the drama.
* * *
Happy Tuesday, to you!