The sunshine? It's on.

After almost a week and a half of skies the color of ash, angry thunderstorms and torrential downpours of rain that summoned blue jeans, sweaters and that cheap, black umbrella that always tests my patience, we're back to our regularly scheduled program: blue skies, high-temps and sunshine that leaves your bare skin sunkissed and warm. And as far as programs go, this is definitely my favorite channel.

The Hubs and I had Friday off work so we spent the afternoon at the beach, digging our toes in the sand, whale-watching from the shoreline and snorkeling with some new gear. Phil's parents are still in town so it was a nice change to be able to bring them to the beach with idyllic, sunshine-y weather.

* * *
Patches of the shoreline are covered in a "crispy" layer from boiling temps that chase away the rain; a life-sized jigsaw puzzle, I cannot resist bending down to pick up the pieces, admiring the intricacies of design from Mother Nature, herself:

I walk along the stretch of beach, digging my feet into the cool, coarse sand and periodically looking over my shoulder to watch as my footprints are quickly erased by the ebb and flow of the tide. There. And gone. Quickly and quietly, the canvas is restored: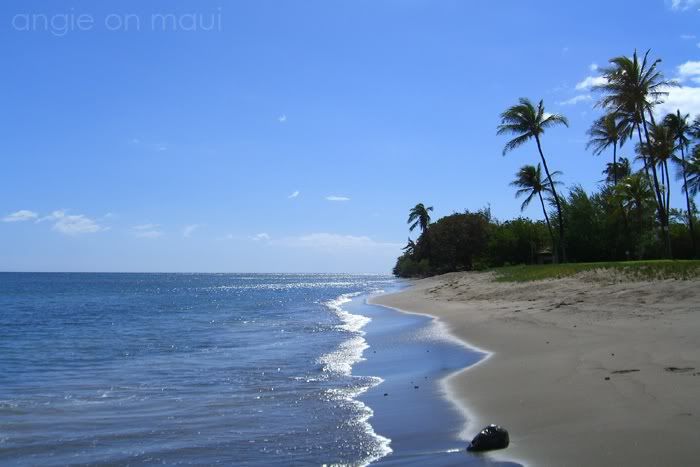 Sitting on a beach towel covered in sand, I watch with eyes shaded by the palms of my hands, as my husband and in-laws snorkel in the distance. They seem so happy here - a long overdue vacation and one where I'm pleased to see them finally learning how to relax. It's been a long and tiresome couple of weeks and most nights, Phil and I fall into bed from exhaustaion, but it's been such a blessing to have a significant amount of quality-time with the two of them.

Mindlessly, my hands rake through the sand and I come up with a collection of rocks that I display in a pile not so much as a trail-marking cairn, but more for the therapeutic effects the concentration brings. When my efforts produce two piles that balance precariously on a much larger stone that has been used as a foot rest until now, I sit back to admire my handiwork and think, I'm feelin' kinda Zen...: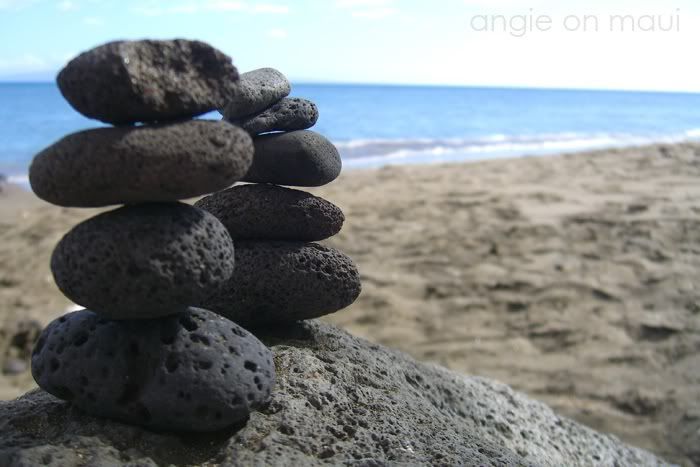 Our afternoon winds down and we sit in the sunshine and then in the shade, savoring our snacks of chilled fruit from our coolers and bottled water whose beads of condensation fall and cool us like rain on a hot afternoon.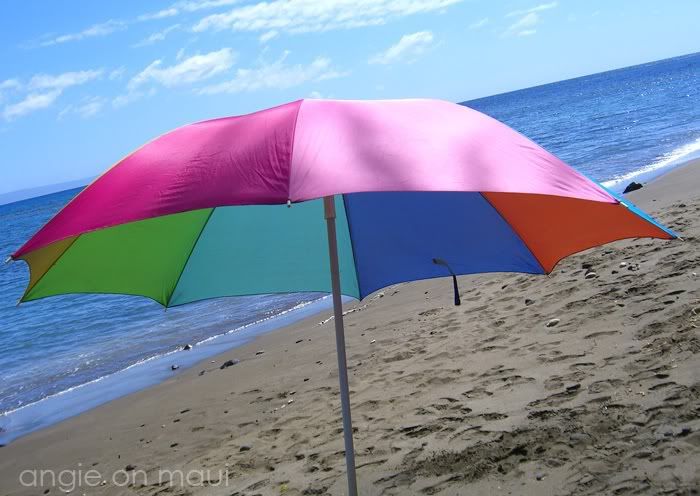 I lay back on my beach towel and stare up at the clouds, watching as they drift along quietly, moving and constantly changing shapes, dissolving into thin vapors before disappearing completely: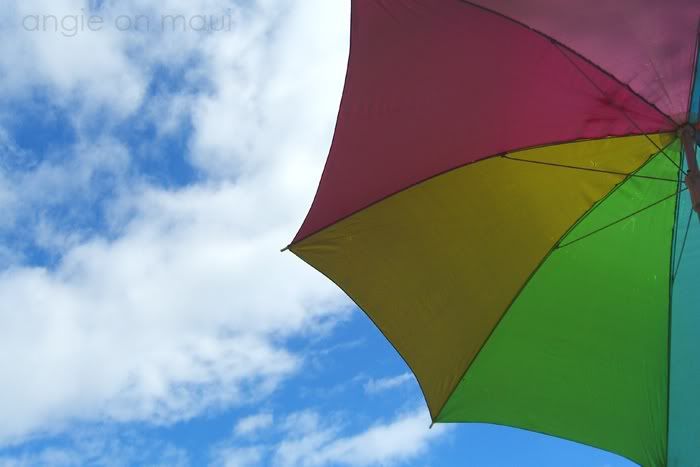 We're blessed with Summerlike weather again and this beach life, as regular as it may be, couldn't make me happier. Here's hoping your weekend was happy, too.

* * *
A BIG THANK YOU to all you new readers who commented on my last post and introduced yourselves! It's been so fun to read your comments and learn a little bit about you! I'm still replying to those of you whose emails are linked to your profiles; for those of you who don't have a blog or didn't provide an email address, I'll reply to you within the comment section, so be sure and check back. Thanks again for playing along!