Hello friends! Do you remember reading my feature post about Erin last month? Well, I am happy to have Erin back on the blog today with a little project that has even me chomping at the bit!

What I love about today's post is not just the aspect of creativity and home decor, but that Erin has managed to accomplish this while sticking to a budget and not adding to her debt. I don't know about you, but I am always up for tips about decorating on a shoestring budget...'cause saving money is pretty cool like that. So kick up your feet and stay awhile. Erin's gonna drop a little knowledge and show us how she gets crafty...

* * *
Hey everybody! If you've swung by my blog, you know that I'm on a mission to get rid of almost $70,000 in debt. (Yikes, right?) The problem is that if you stick me in a store—whatever the variety—without fail, I fall in love with the most expensive object(s) in the place.

On my last trip to anthropologie, one of my favorite stores ever, I fell in love with their Pinwale Alphabet. I had visions of the phrase "aloha" living above my door, but at $14 per letter (plus tax, of course), those babies were more than a little out of my price range. And then I had a crazy thought:

"Hey, I could make those things!"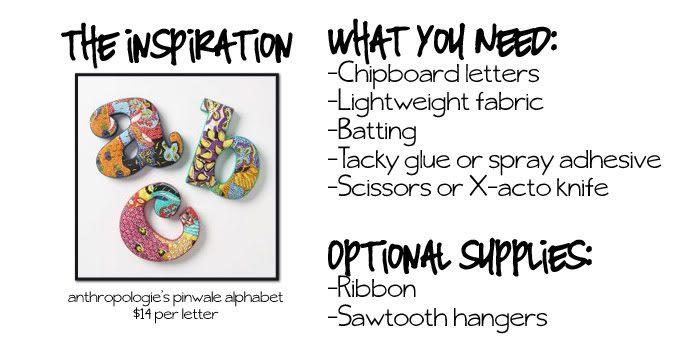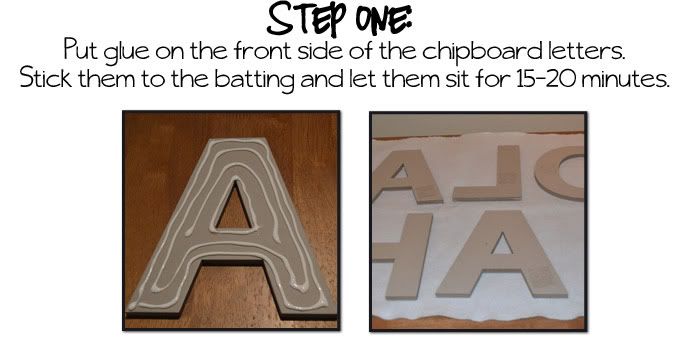 You could add more batting if you want your letters to look more "puffy". If that's the case, follow step 2, and then repeat steps 1 and 2.

While you're letting the glue dry, it's a good time to iron your fabric. (Or use Downy Wrinkle Releaser. Let's just be honest.)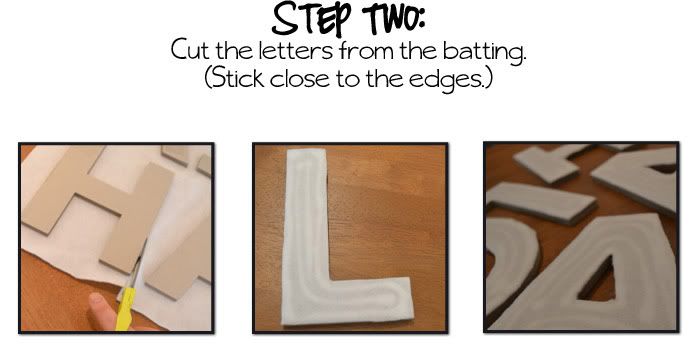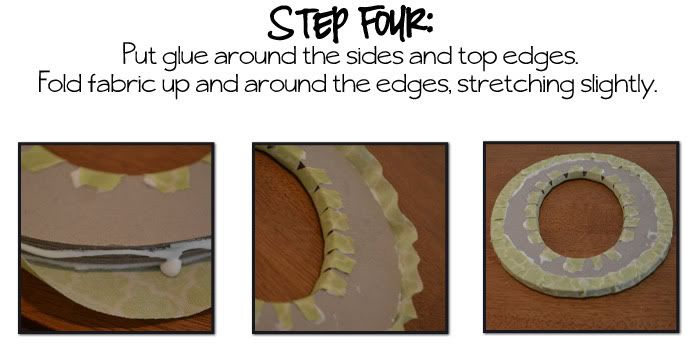 Repeat the process until you have all the letters done. Obviously, you have to let the glue dry again before you go mounting these bad boys. Paint your toes. Pour yourself a drink. And then...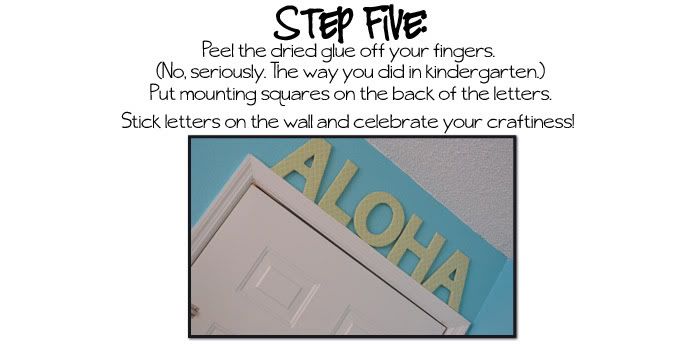 I like my letters with just the fabric, and I don't mind an unfinished back since they're just going up against a wall. If you want to get all Martha Stewart, you can take some ribbon and glue it around the sides. If you want to get even more professional looking, you can cut out a fabric outline of the letters before you start Step 1 and glue them onto the backs of the letters after Step 4.

Buying the letters from anthropologie would have cost me $65 plus tax. Making the letters myself took more time, but only cost about $25 total. Saving $40 and ending up with something custom made for my apartment? Totally worth it!

Thanks for sharing a little aloha on the blog, Erin! xo

* * *
When Erin sent me her write up for this post, it took me all of five minutes to decide that it was something I wanted to try, too. Unfortunately, the choices are slim for us out here, so I'm still shopping around for just the right letters. For now, I'm putting this tutorial on my To-Do list and will be sure to share the end result with you!

Please go and visit Erin and say hello!
Now if you'll excuse me, I'm going to put glue on my hands, let it dry and peel it off just like I did in kindergarten. You know you want to, too.