Happy Aloha Friday, friends! I'm not really a "survey" kind of person, but I thought I'd mix things up a bit here on the blog...so I'll bite. I lifted this survey from Mrs. T's blog. Feel free to answer these questions in your own blog post...I love reading random factoids about my friends! :)
* * *
Totally Random Survey. Or, "48 Facts You Never Knew About Me"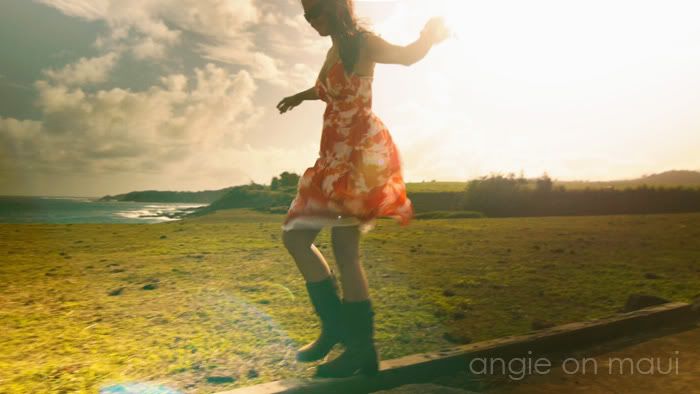 1. What time did you get up this morning? 6:25 am

2. How do you like your steak? I'm not really a steak person.

3. What was the last film you saw at the cinema?: The Sitter. (NOT my choice)

4. What is your favourite TV show? The Biggest Loser. It's inspirational and motivating all at once.

5. If you could live anywhere in the world where would it be? Honestly, I am 110% happy where I am at right this minute! It's Maui, afterall.

6. What did you have for breakfast? A whole wheat bagel with a side of vitamins. :)

7. What is your favorite food? Crab. With lots and lots of drawn butter.

8. Foods you dislike? Most meats, sushi, beets, spicy foods, marinara sauce.

9. Favorite place to eat? On Maui? Colleen's at The Cannery. In California? Kincaid's.

10. Favorite dressing? Papaya Seed Dressing

11. What kind of vehicle do you drive? Honda Civic. Her name is Celeste.

12. What are your favorite clothes? Tank tops, cotton skirts, and slippers (aka flip-flops)

13. Where would you visit if you had the chance? Bali.

14. Cup 1/2 empty or 1/2 full? Overflowing like a Mo'Fo', baby.

15. Where would you want to retire? Right here. :)

16. Favorite time of day? Right after work.

17. Where were you born? Honolulu, HI

18. What is your favorite sport to watch? I don't usually watch sports until the Olympics...AND THAT'S THIS YEAR! WOOT WOOT!

19. What is your favorite fragrance? DKNY - Be Delicious

20. What is your favorite face cream? Clinique: Dramatically Different Moisturizing Gel

21. Favorite baby/kids products? n/a

22. People watcher? Word.

23. Are you a morning or night person? I am a night-owl.

24. Do you have any pets? A kitty; a gray tabby named Grace.

25. Any new and exciting news you'd like to share? Not just yet!

26. What did you want to be when you were little? A marine biologist or a veterinarian. And I am neither...interesting.

27. What is your favorite memory? Memories of my childhood, laughing with my family and playing outside in the sunshine.

28. Are you a cat or dog person? Both!

29. Are you married? Very!

30. Always wear your seat belt? Always.

31. Been in a car accident? A few...and none of them were my fault! I have a squeaky clean driving/insurance record!

32. Any pet peeves? Tardiness. Asymmetry. Mean people.

33. Favorite pizza toppings? Black olives and pineapple.

34. Favorite flower? Gardenia

35. Favorite ice cream? Mint Chocolate Chip

36. Favorite fast food restaurant? I cannot lie - McDonalds. But only for their fries.

37. How many times did you fail your driver's test? Never. 'Scored a 96 on my first try!

38. From whom did you get your last email? My friend Rachel...a commissioned painting request!

39. Which store would you choose to max out your credit card? Am I dork that I could go credit card CUH-RAZY in Target?

40. Do anything spontaneous lately? Pineapple sunsets, baby!

41. Like your job? I am grateful. :)

42. Broccoli? Yes, please!

43. What was your favorite vacation? The Bahamas with The Hubs.

44. Last person you went out to dinner with? The Hubs!

45. What are you listening to right now? The Hubs' plating our dinner...('cause I am too busy blogging)

46. What is your favorite color? Blues and greens: shades of the sea

47. How many tattoos do you have? One. I got it before Phil and I were married; Phil never really liked tattoos, so I had it done after we got into a fight and broke up for a couple of weeks. I know...it was a very calculated move on my part. Woops. ;)

48. Coffee drinker? Loooooove coffee.

* * *
Ok, this was kind of fun to answer! I kept reading the questions out loud to see if Phil could answer these for me and I've gotta say, he did good. Except for #47. Apparently, that is still a sore spot for him. ;)

Play along, will you? I want to read 48 facts about YOU!