I am a thinker. I have the innate ability to over-analyze words, a gesture, a look, or any given situation. This personality trait is most certainly a weakness of mine, because it brings me nothing but stress and worry, often leaving me paralyzed with fear and anxiety. I genuinely feel the need to work on this aspect of myself for the sake of my emotional well-being, because the state it leaves me in is shortening my life.
Case in point: Yesterday, we had some of the biggest South swell of the season. Watersports enthusiasts island-wide skipped out of work in order to watch and/or ride the waves...my husband, included. He left the house at 6:00am bound for La Perouse, and I did not see him until almost 7:00pm last night. His last text to me was at about 9:30am, and that was it. I sent him a text around noon just to check in and didn't hear back from him. By 3:00pm, panic set in and lunacy ensued. Accidents happen all the time. And out here, on a rock in the middle of the Pacific, we are no strangers to water-related injuries and mishaps.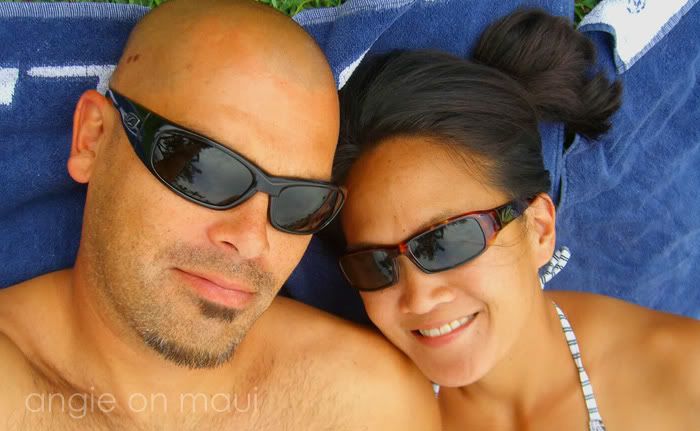 Love makes you vulnerable. And when you love someone with your whole heart, soul and being, the fear of losing them can take you to places you don't think are possible. I have not felt a fear so deep and so debilitating in such a long time. At 5:30pm yesterday, I found myself sitting on my bed, unable to dissuade my thoughts from taking me to an unthinkable realm of the absolute worst. And there, by myself, looking out my bedroom window at the palm tree pulling in the wind - the very wind that was bringing in these sought-after waves - I about lost my ever-loving mind. I burst into tears because the idea of losing him was so raw and so real. And it scares me that my mind can take me to this place.
It has been less than a year since I lost my brother and the idea of losing the Love of my Life? It was enough to launch me into the throes of despair. I hate this kind of fear.
I will spare you the details of my meltdown and simply say this: God hears us. In my moment of panic, He managed to get my attention. I felt Him. I heard Him. And I was comforted enough to be able to pull myself together and wait. Patiently.
My phone rang at almost 6:00pm. As it turns out, the point to where they'd hiked out on the lava rocks was so far out, they'd lost phone reception. He was fine, but delayed (the waves were so big they'd washed up onshore where they were trying to drive out from). I cried tears of relief; I just wanted him home so that I could hug him. Hard.
* * *
I realize how unhealthy this kind of fear is, and we had a long talk about it over dinner. I seriously need to get back into Yoga to better manage my stress levels.