The air is warm and still; the warmth of the sun beats down on your shoulders, baking them a shade of golden brown. Beads of sweat form on your brow and you look up into the sky to acknowledge the glorious sun, when you see them. Dragonflies. Everywhere. And suddenly, you are aware of the faint, yet audible hum of their wings, flapping in a symmetrical rhythm that suggests these insects indeed, know how to dance. You pause, marveling at these insects in flight, enchanted by their sudden passing and mesmerized by their iridescent beauty.
I did this, today. Apparently, it is dragonfly season here, and they are out in abundance; I looked up and saw countless dragonflies hovering above me against a beautifully soothing blackdrop of blue. The amateur photographer in me immediately rummaged through the large abyss of a "purse" I carry with me, fishing for my point-and-shoot camera, wanting desperately to capture this impromptu encounter of pretty things with wings, but I am remiss, because there are moving cars in the parking lot and none care to stop so that the crazy-lady with the camera can take photos of bugs in the sky. I walk to the little concrete island in said lot, park myself under a tree, and I wait. I wait for the clearing of cars and when the coast is clear, I stand expectantly on the pavement, face turned upwards towards the sun, and I observe these creatures of the wind, waiting and hoping that one will pause long enough to be captured.
And patience is a virtue, my friends.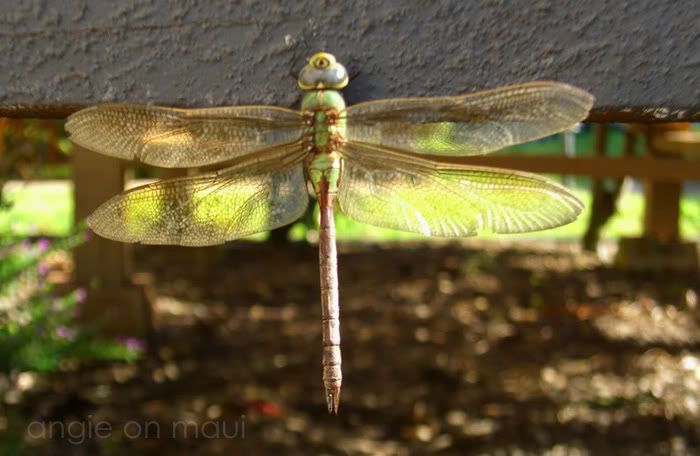 This beautiful creature landed close enough to me so that my sad, little point-and-shoot could capture its brilliance. And a brilliant moment, it was.
* * *
Did you know...

...that in almost every part of the world, the dragonfly represents change? Change in the perspective of self-realization?
...that in Japanese paintings, dragonflies are representations of new joy and delight?
...that the dragonfly is a master of power and poise, and can move at an alarming speed of 45 miles per hour while simply flapping its wings a mere 30 times a minute (a fly or a mosquito needs to flap its wings 600-1000 times a minute to accomplish the same movement)?
...that the dragonfly is notorious for defeating self-created illusions on its' iridescent appearance, alone? The magical properties of iridescence is also associated with the discovery of one's own abilities and unmasking one's true identity and removing self-inflicted doubts and insecurites. The dragonfly represents self-discovery and the removal of inhibitions at its finest.
...that the dragonfly spends most of its life as a nymph or an immature, flying only a fraction of its life (and only a few months)? These insects are recognized for their ability to live in the present, whereby exemplifying the virtue of living life to the fullest and in the moment; a life with no regrets.
...that approximately 80% of the dragonfly's brain power is dedicated to its sight, and that this symbolizes the uninhibited vision of the mind and the ability to see beyond the limitations of the human self?
...that a dragonfly's mode of tranportation, as it skitters across the top of bodies of water is an implication that our deeper thoughts are surfacing and that we should pay heed to this realization? Our thoughts are responsible for what we see in our lives and directly related to the outcomes - positive or negative. The presence of a dragonfly suggests that we must pay close attention to the details under the "surface".
...that dragonflies represent a sense of self that comes only with age and maturity? They encourage us to delve deeper, to pick apart the aspects of ourselves that offer greater meaning as to why we operate the way we do. Above all, the dragonfly lives a short life; this is the greatest lesson we can learn from them.
'Pretty amazing what a simple insect can represent...'no?
So, on this Sunday evening (or Monday morning, depending where you are on the globe), I hope that you take a moment to be still and just "BE"...to understand and take stock of the meaning of this beautiful insect. If you happen to come across one, take a few moments to ponder its purpose. And learn from it.
Live your life.
In the moment and with no regrets.