Wow, it feels like I've been so far removed from the blogging world for ages (funny, it's only been a week); we have been busy.busy.busy, but that is par for the course this time of year. We've been diligent little worker-bees, putting in extra hours at our day jobs and side biz, visiting with friends, braving the spell of consumerism to finish up our Christmas shopping and all while still trying to enjoy the essence of the holiday season. I am spent, but it's all good.

I have had my Holiday moments, where my cheer is temporarily trumped by momentary insanity, all thanks to arrogant drivers who cut me off, rude temperaments in the retail world or uncooperative umbrellas that decide to FULLY OPEN right when you get into your car out of the pouring rain, thus drenching the entire inside of your car and the outfit you so carefully put together in an effort to feel cute. But like I said, it's all good...and I'm gonna have myself a Merry Little Christmas, even if it kills me. :)

In the midst of this crazy time of year, where it is so easy to lose sight of the importance of what this season is all about, there are moments when I feel like I am touched by the hand of God, Himself. Yesterday, during a dreaded trip to the store (for wrapping paper and gift tags) which had me brooding the entire drive, I turned the corner and BAM. I saw this: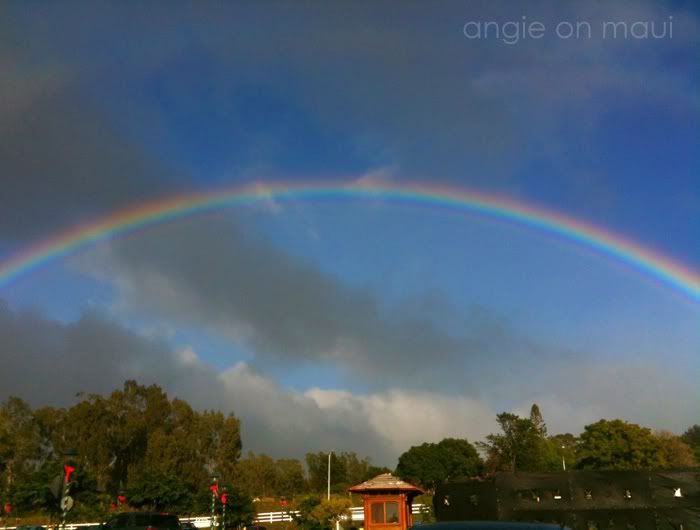 And right there, under my breath, a "WOW" escaped my lips and I smiled. I parked my car, got out, sought the cover of a nearby tree to avoid the rain and took multiple photos of this masterpiece. The brilliant arc of colors were so grandiose, I could have sworn an audible energy reverberated above me. In that moment, my mood was lifted and all was right in the world again.

God is good.