Yesterday was one of those days when I just knew that I wasn't at my best. It was the kind of day that, despite outward appearances of Happy and Good, somewhere underneath it all, I felt like my heart could use a good scrubbing.

Yesterday, I felt like a total fraud. I went about my day wearing my "Sales Face", smiling when I was supposed to and exuding unmistakeable happiness when inside, I was feeling anything but. Instead, I was impatient, annoyed, irritable and unkind. And I was feeling (shamefully) vindictive towards the driver who almost ran me over in the crosswalk and then minutes later, the woman at the the Post Office who, right before she entered, turned around, made eye contact with me, waltzed on in and then let the door shut right in my face. Well, not literally, but close enough, considering I was only three steps behind her. Awesome. Thanks so much.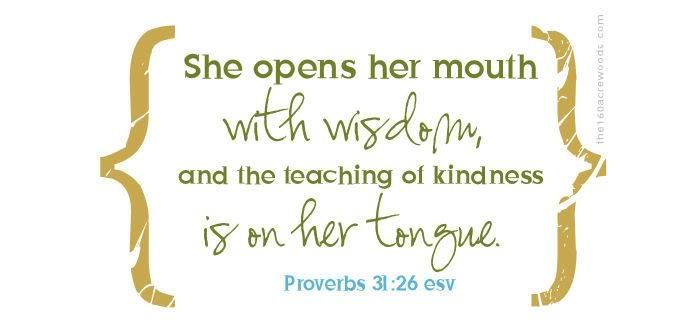 I try not to sweat the small stuff, but some days, my patience is worn thin and I know I am being tested. On these days, trying to see past the negative is more difficult than ever and momentary satisfaction is achieved only when I allow myself to say not-so-kind-things under my breath that are neither true nor called for. I don't like this about myself, because it is not an accurate reflection of who I am at the core of my being.

I know I'm not alone in this, because I am human and I am flawed. And despite my shortcomings, I know that God still loves a girl like me; a girl and all her sinful ways. This realization alone is enough to make me want to do better, because I know that I can.

When I read Proverbs 31, I often feel painfully inferior, because this Godly woman is everything I strive to be and most of which I am not. I may never be exactly what she is, but I can still try to hold myself to a higher standard and become that instrument of peace. I can be a better wife to my husband - a man who works so hard and loves so big. I can be a better daughter, sister, auntie and friend.

I want to be a better person today than I was yesterday.

I know I can do better.

* * *