I am publishing this post with the caveat that I do not consider myself in any way, shape or form, stylish. This blog was never intended to be anything remotely fashion-related and posting "What I Wore" outfits has never been on my radar. As such, I don't know how long this window of bravery will last. Just sayin'.
* * *
Something happened to me while we were visiting my family on the mainland; I would not go so far as to say that I am permanently changed, but a seed has been planted...and I'm kinda wanting to see what grows.
Anyone who has been reading my blog for a while knows that I live in flip-flops (also known as slippahs out here), tank tops and cotton gauchos---which my husband is quick to point out that he abhors. My style sense has always been geared towards comfort and function and admittedly, I am lacking the girly-girl fashion gene. Since we moved here five years ago, I will be the first to admit that I've seen a serious decline in my interest in clothing and shopping and the accessories reminiscent of my "old life". And while I pride myself on being somewhat "low-maintenance", there is a fine-line between low-maintenance and no-maintenance. And it's a good thing I have a husband who LOVES me, because I think I might very well be straddling the two.
So while in CA and during a quick trip to the mall to find a dress to wear to my brother's wedding (Exhibit A: clearly, I am far from fashionable when I wait to buy a dress TWO DAYS before an event), I allowed my Mom and stepdad to drag me through stores to point out possible options. And there, in Nordstrom, in the dressing room at the far end of the hall, surrounded by 20+ dresses and an enthusiastic Momma who was excited at the prospect of seeing me in a colorful dress, it happened. I tried on a dress, and I felt pretty.
And when I say pretty, I mean, I really, honestly, felt pretty. Pretty in the sense that I suddenly wanted to curl my hair. Pretty in the sense that I suddenly wanted to wear eye-shadow and lip gloss. And pretty in the sense that I wanted to buy a pair of shoes that were bright, and fun and so NOT me. So guess what? I did.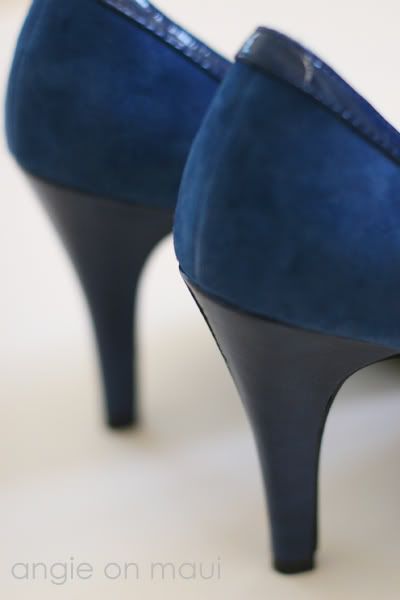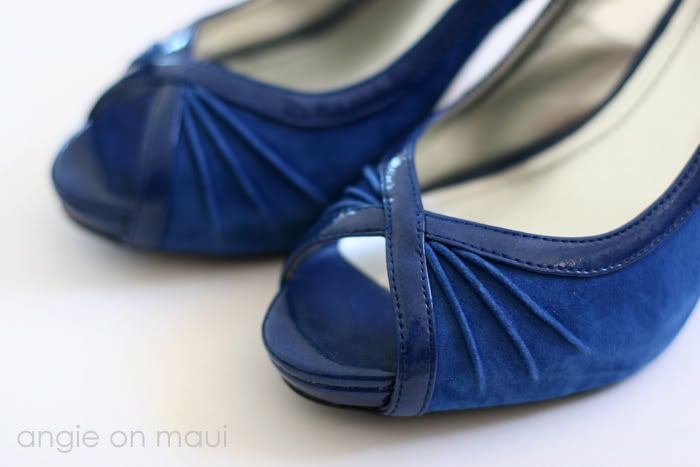 And I rocked those blue suede shoes.
I would be remiss to post photos of the shoes only, so I'm throwing in a couple of photos that The Hubs took while I was fully decked out. I am incredibly uncomfortable posting these photos, but in light of this newfound girly-ness, I am sharing them with you.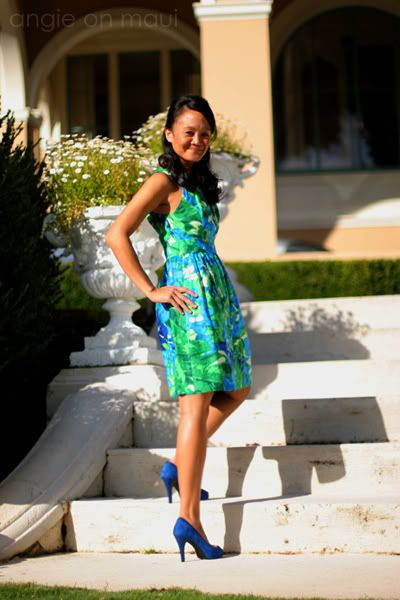 dress: Nordstrom
shoes: Macy's
earrings: New Bling from Momma! (not pictured)
My brother's wedding is realistically the only time this year that I will get to see my husband in a tie ('cause that's how we roll), so I am including this photo for posterity: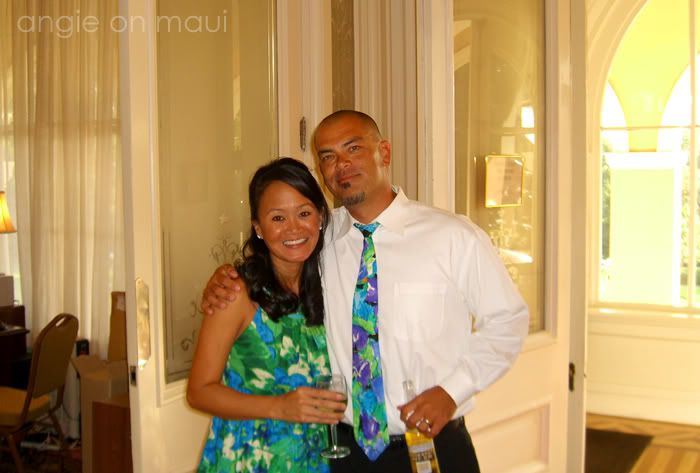 I think we clean up real nice, don't you? :)
* * *
Linking up with Lindsey at The Pleated Poppy!