There was a time five years ago, when saying goodbye to San Francisco and boarding a flight bound for our "new" home on Maui meant fear, heartbreak, tears and a faint (yet tangible) sense of uncertainty. And on trips back to the Golden State, this repetitive act of farewell made my insides ache not just for the elements that make the Bay Area an amazing locale to live, but the people---our family we leave behind.
It has been almost a week since our return from San Francisco. As much as I already miss my family and our time spent together, flying into Maui and stepping off the plane into moist, salty air infused with the distinct scent of plumeria (so very quintessential of life on a tropical island), made our arrival here truly feel like home.
This realization made our appreciation for our "old lives" back in CA that much sweeter. There was an apparent theme to our visit, all of which began with the sixth letter of the alphabet: F. Like Family. Friends. Food. And Fun. Four components that, if you ask me, make for a perfect getaway, however long or short the trip may be.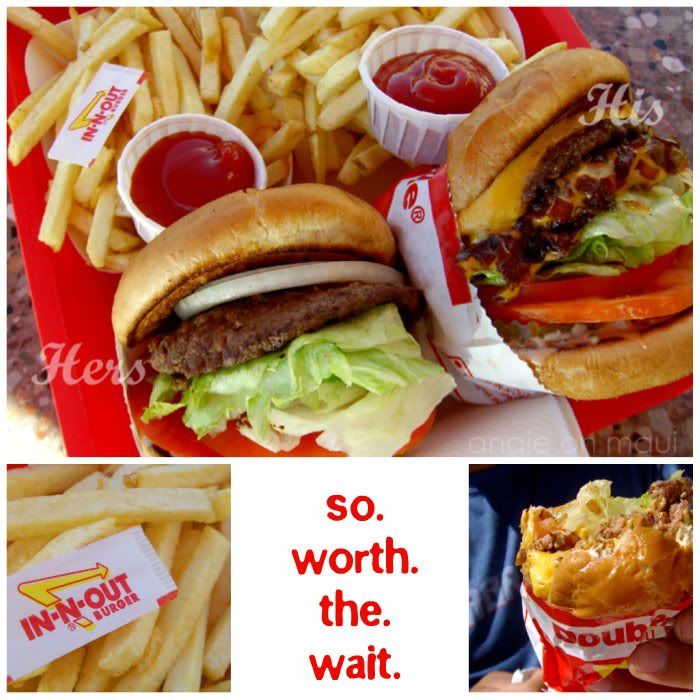 Phil had been talking about making a trip to In-N-Out for weeks before our trip; on that one afternoon, we sat outside eating in the "chilly" California sunshine and made his wish come true. And for the record, YES, I am back to eating meat again. This was not an easy decision for me and I still have MAJOR guilt issues because of this (another post, entirely), but I am learning to listen to my body - listening to what it needs. And on this day, in support of my husband, my body needed a burger.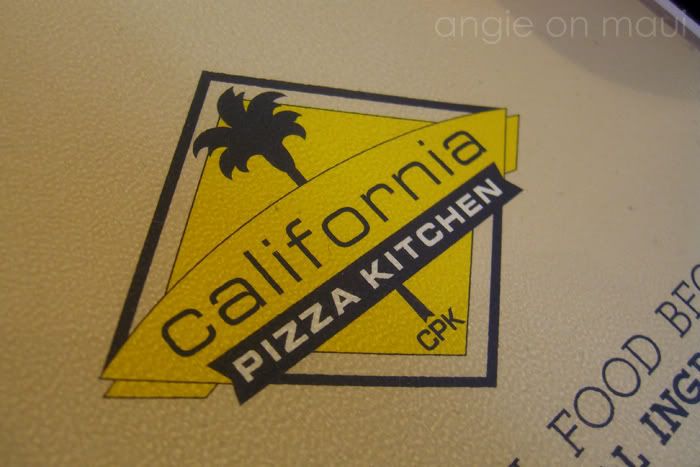 CPK. Our old stomping grounds. Back in the day, my all-time favorite pizza was the Rosemary Potato pizza, a "sure thing" from which I rarely strayed. This trip, however, I mixed things up a bit (I am a creature of habit, so this is HUGE) and ordered the Pear & Gorgonzola pizza (Bosc pears, gorgonzola, fontina, mozzarella, carmelized onions and hazelnuts, and field greens tossed in gorgonzola ranch). I DIE.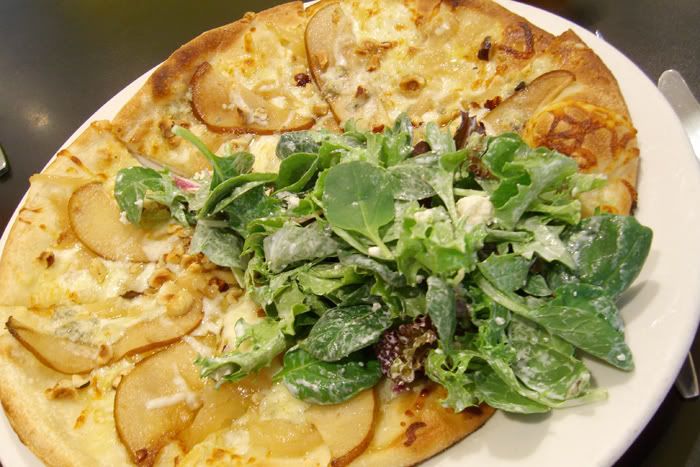 Anyone living in the near vicinity of a CPK, would you kindly send me one of these, stat? Please and thank you.
We made a trip to the Mother Ship of all One-Stop-Shops: TARGET. I miss this place in a bad, bad way. We didn't do much damage this time around (last year, we stocked up on...stuff that would not fit in our suitcases and actually had to ship a box home to Maui), but did pick up a few items. After we played around in the parking lot like children, of course. And I seriously LOVE my husband for being such a good sport, because he knows that most of my pictures are almost always candidates for the blog.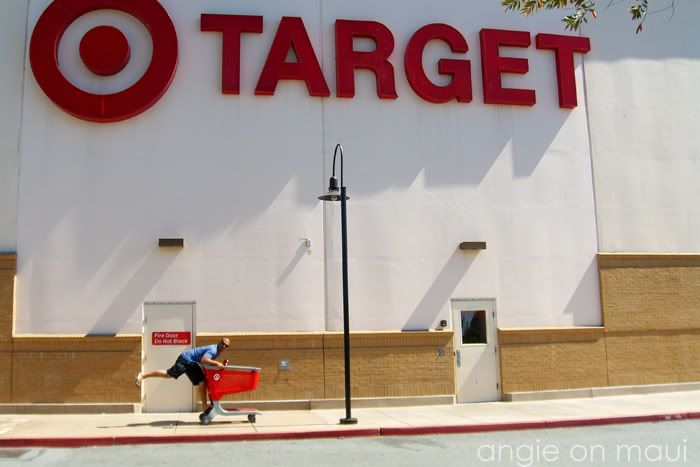 WWWWWWWHHHHHHHEEEEEEEEEEEEEE!
We are the "cool" Aunt and Uncle, because we combed the aisles for toys to spoil my niece and nephew, which produces one of the best feelings, ever (thanks Mike and Jocelyn, for humoring us and letting us relish in our title!). We wrapped up their gifts--because at ages 3 and 5, nothing is more gratifying that unwrapping a toy, right?---and presented it to them during the rehearsal dinner. 'Worked like a charm and entertained them for hours. Not only are we the cool aunt and uncle, but we're pretty genius, too (that's right...we know some stuff).
Despite it being a quick trip focused entirely on my brother's wedding, we were still able to spend some one-on-one time with the parentals. We went to dinner and a show at Teatro ZinZanni - SERIOUS entertainment (if you live in/near San Francisco - go see it!). Phil was plucked from the audience to participate in the live entertainment not once, but twice. And it was awesome. Always the good sport, he is.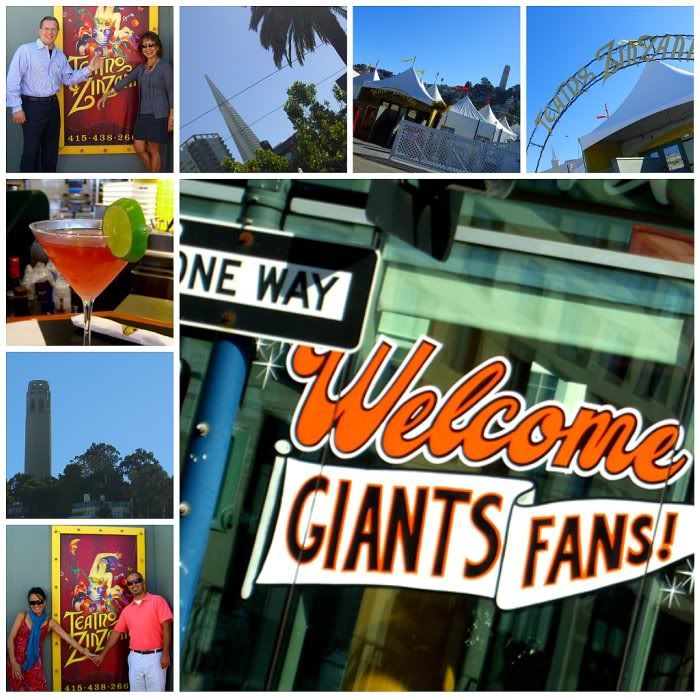 I carved out two hours on Sunday morning to meet up with one of my oldest and dearest friends, C. We'd planned this coffee date months ago and despite feeling under the weather that morning, I rallied and met her at Starbucks to catch up. It was two hours of non-stop conversation where we barely came up for air. I love friendships like that. I love this girl.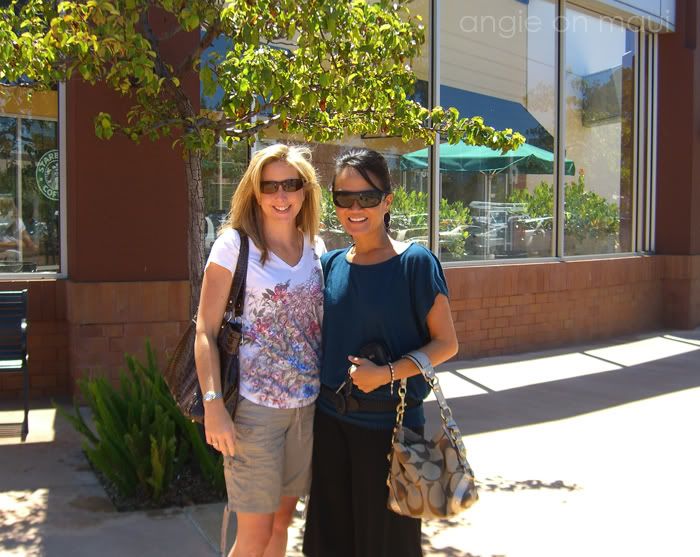 ** NOTE TO SELF: Lose the shirt, Ang. It is NOT flattering on you.**
The night before we left (and two days before Ty and Jess left for their honeymoon), we spent the evening at Mike and Jocelyn's. It was an evening we'd arranged ahead of time and had been looking forward to: no grand plans, just us siblings and our significant others, sitting around the living room, talking. We ordered pizza for dinner, we drank wine (beer for the boys), we shared stories and we laughed. A lot. This was one of my favorite moments of the entire trip.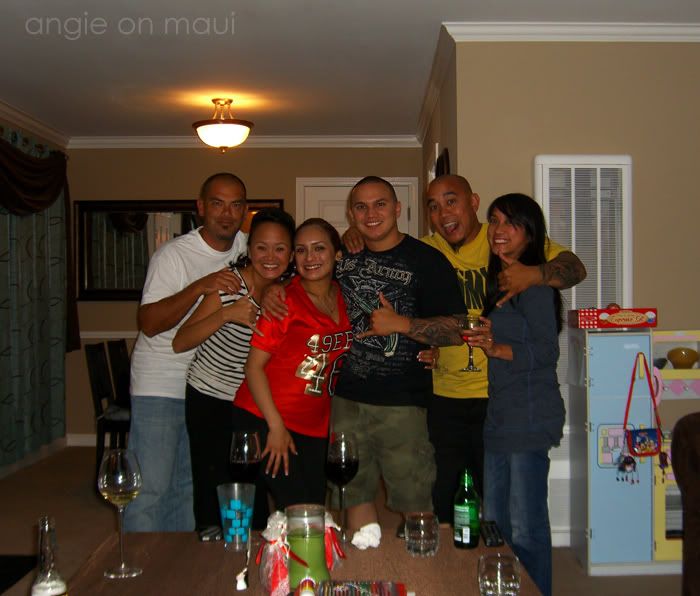 I do not know why my brothers and I always feel the need to throw out a "shaka". I don't.
And of course, there was the wedding. It was beautiful. The kind of beautiful that tightens your throat and leaves you short of breath. And it was emotional - not in the standard, cry-at-every-wedding emotional, but emotional in the sense that it was the wedding of my baby brother. And for my Momma, it marked the last of her children to marry. The wedding warrants a post of its own, so I will wait. And I will let my photos do the talking.
I cried a lot this trip. I cried right after we landed and when I saw my Momma and stepdad waiting for us at their allowed station, clear across the aiport. I cried in church at the rehearsal when my grandfather was wheeled in on his wheelchair. His face, weathered, his eyes, tired, his once boisterous and booming voice whittled down to a laborious, softer tone. I cried when my niece and nephew both finally came to sit on my lap when we first arrived (it took them a while to warm up to me, but we got there). And I cried when I hugged my brother Mike; we've grown especially close over the last five years and the distance is hard. But all these tears...they weren't tears of sadness, no. I cried because I am filled with so much love for these wonderful and amazing people in my life; I feel so incredibly fortunate and blessed for this gift from God: the gift of Family. Nothing trumps family.
My cup runs over. And my heart is full.