Thank you everyone, for your encouraging comments and emails regarding the launch of my Etsy shop. It's been a long time coming and truly a labor of love and I am happy to be able to share this journey with you. At present, I'm working on putting my ego aside, ignoring the voices in my head that drone on and on about what I could be doing differently, or what I should be doing instead of, or what I could be doing, better. I know that this new adventure of mine may or may not unfold exactly as I've planned, but I refuse to lose sight of the big picture: I'm no longer talking...I'm doing. And isn't that what's important here?
Of course, it helps to have a support system consisting of you - my blogging (and real-life) friends - and a husband who knows exactly how to appease his lunatic wife in her hour-of-need, and I want to acknowledge that here. So thank you. Thank you for taking the time to check out the shop, for writing to me and for showing me some love.
And a big, public thanks to Phil, for enduring my late-afternoon meltdown yesterday and cleaning up the hot-mess that was I. He has been great, encouraging me and not complaining once, when I assigned him the task of photographing my artwork because I have an irritating knack for waiting until the 11th hour (sorry Phil...love you bunches!).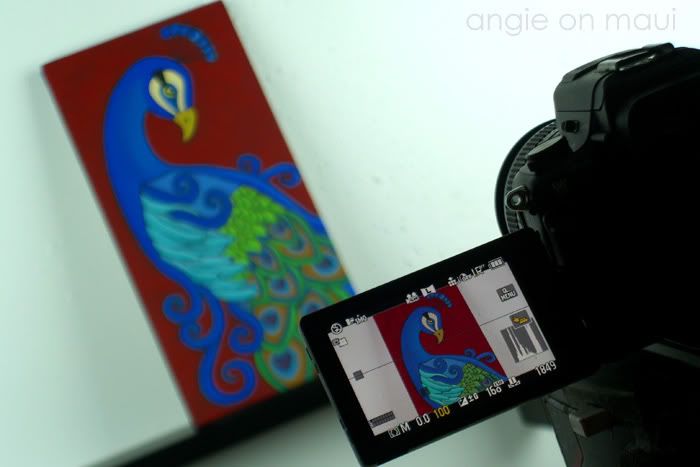 'Cause we're a team, like that.
So, with the shop officially open and my "being in the zone", I'm pressing on, finding the time to paint while juggling a full-time job and blogging (which can easily qualify as a full-time job in and of itself). I've got in-progress paintings waiting at the sidelines and new products planned in the coming weeks, so I have my work cut out for me. The nice thing is that future listings are more in the "affordable" pricepoint range, so hopefully there will be something to whet everyone's appetite.
We've got a lot on our plates right now; Phil's brothers and sisters just flew into town (all five of them!), work obligations call, we're preparing for a quickie-trip in a few weeks and I'm working on a project for my blogiversary celebration (August 1st...stay tuned!) so my posting may be sporadic, at best.
Thanks again, friends...much love to all!
* * *
And in answer to the cute email question I received this morning, yes, we really do have peacocks out here in Hawaii. :)