The simple fact that today is Friday is enough to put a huge smile on my face this morning. I'm happy today (despite having slept like poo all night long, waking every hour on the hour). I am happy because the weekend is on the horizon, we are a week closer to our trip back to the mainland and I have something fun and exciting planned for you - my blogging friends - bright and early on Monday morning.
I should be getting ready for work, but I am sitting on my bed at the moment, Grace curled up in my lap; I am half-dressed and sans make-up. Our bedroom window is open so the cool upcountry breeze is filtering in, but the skies...the skies are somber and gray. Fat drops of rain pummel the earth in small successions, creating a pattern of sound that catches even our kitty's attention as she lifts her head from my lap and cranes her neck to the window. Each passing shower is separated by a beautiful moment of still, and in this tiny pocket of time, I sense the sun behind the clouds, shining brightly and promising blue skies.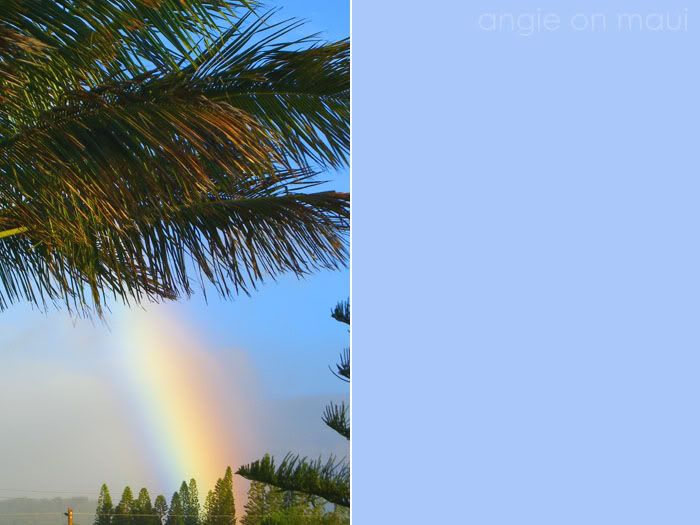 Our mornings have began like this over the last week. At the risk of sounding like a complainer, there is a tiny sense of disappointment when I open my eyes in the morning only to see dark skies when I draw the curtains. But then I remember this simple fact: Without rain, there are no rainbows.
And that is enough to put things in perspective.
* * *
Have a beautiful Friday, friends!