At about 6:30pm last night, Phil suddenly had the urge to take a drive to try and capture some video footage of the Jacaranda trees during dusk. I wasn't really in the mood, as I'd long been in decompression-mode (what with my busy day and all), lounging on the couch in my cotton gauchos and becoming one with the furniture. It will be fun...I'd love for you to join me, he said. And when he puts it that way, how can I resist? There may or may not have been a bit of eye-rolling, but I rallied, got dressed and grabbed my camera (because if I got bored, surely I could find something to take photos of).
We drove to the base of the Haleakala crater and at about 2,500 feet, we turned around and pulled over so that we had a view of the West Maui mountains, Central Maui and the sunset: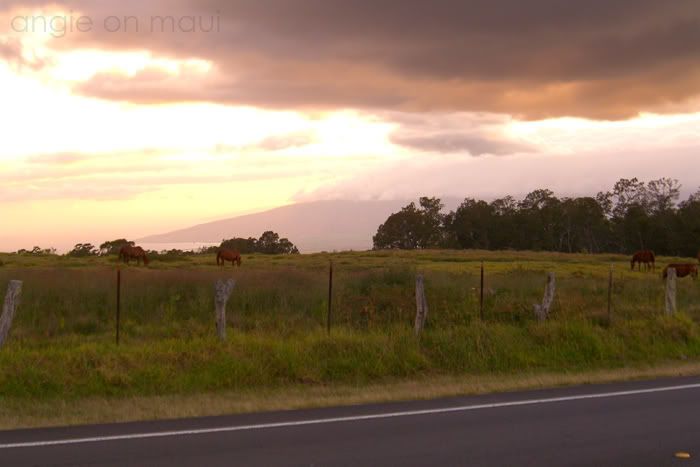 My sights quickly zeroed in on the horses grazing in the field; while Phil began setting up his video equipment, I made my way across the street and to the edge of the chicken-wire fence where I began calling to them. I never expected them to come, but they did.
For the next half-hour, I found myself crawling along the fence, knee-deep in grass and pulling handfuls of it to feed to them. It was the sweetest thing ever, to have them eating from my hands what they could very well graze for on their own. But I loved every minute of it and before too long, Phil was beside me, capturing video footage and still photos of The Horse Whisperer that is I. :)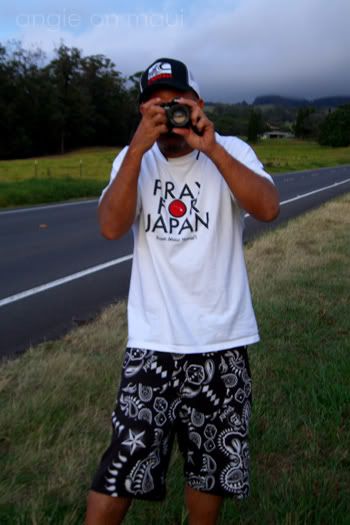 The timing of our little excursion could not have been better; the clouds made for an amazing palette of vibrant colors against the heavy and dark sky: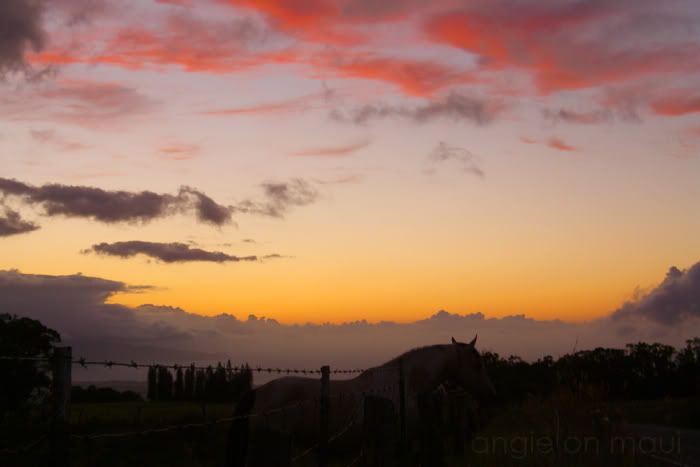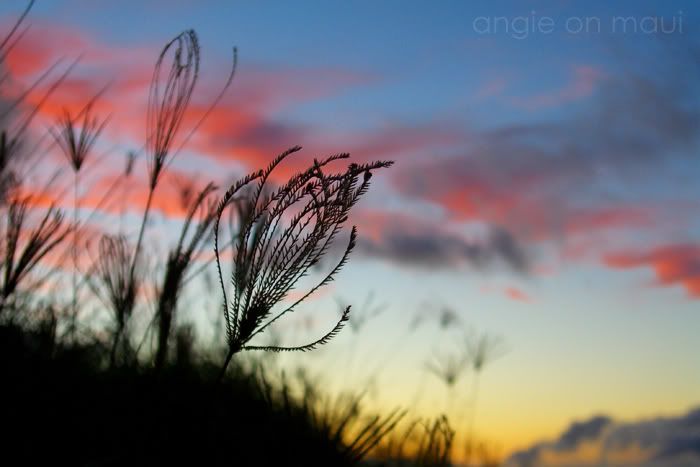 Suffice it to say, Phil never got the footage he needed of the Jacaranda trees, but we both had a spontaneous Saturday evening of fun. You know, just horsing around. Ha! When Spontaneity calls, you answer. :)
* * *
We are off to our friends' for brunch this morning and then heading to The Republik Musik Festival, which I am SO excited for...hours of Reggae music, good friends and good times!
Happy Weekending, friends!
What are your plans for the rest of the weekend?