I'm feeling a bit homesick these days...homesick for the family we left behind on the mainland, in both California and Oregon. As much as I love it here, it's hard, being away from family. Some days are harder than others; birthdays, anniversaries and the holidays are especially difficult, but it's the random days in between that make me miss living in San Francisco and within minutes of my family.
We don't get back to visit as often as I'd like, but we've learned to accept and appreciate our once-a-year visits...and it always helps that our families come to see us throughout the year. I have convinced myself that our families fly out here to see the fabulousness that is Phil and I, but deep down, I think it's also because duh, we live on Maui. But I'm totally ok with that.
Sundays are big days for me; I've had a long-standing Skype date with my parents every Sunday at exactly 4:30pm Hawaii Time. Our conversations last no less than 90 minutes, and I may or may not be shouting excitedly at the laptop while Phil will often throw glances in my direction that say: "indoor voices, please." I can't help it. I get loud when I'm happy and excited. :) Most Sundays, I also get a chance to see my niece and nephew via Skype, because my brother and sister-in-law are there visiting and my parents still have "Family Night Dinners" on Sundays (I know. How awesome is that?). So in a roundabout way, it's like I'm there having dinner with them.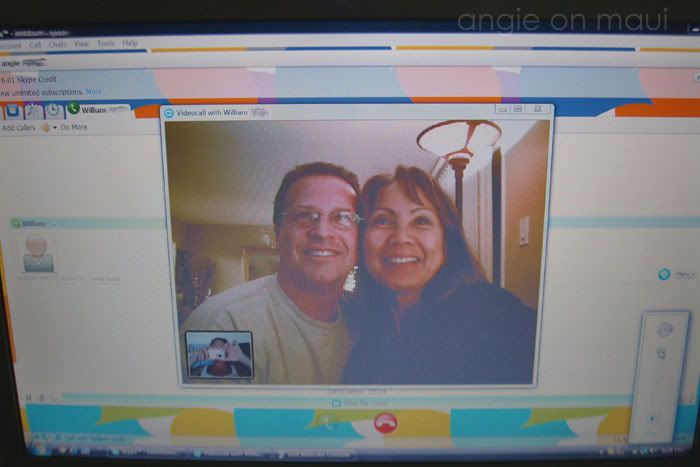 Yesterday's phone date with my parents was no different; I yelled told them about our weekend, what we've been up to, what we were having for dinner...anything and everything of little to no importance. We joked, we laughed, and towards the end of our conversation, my Momma cried over missing us. :( Distance is hard. But I would be remiss if I did not admit that technology--as much as I resist it--is pretty darn amazing.
I'm looking forward to these summer months, when we will have time to bond with family. Next month, Phil's brothers and sisters (all FIVE of them!) are coming to visit us and then in August, we're Goin' back to Cali, Cali, Cali for a quick trip to attend my little brother's wedding. I'm so excited.
So, yeah. I'm homesick, but we've got a lot to look forward to in the coming months.
* * *
On a more random note, God's love has been pouring forth and shining extra bright on us these days. We've had some pretty amazing sunsets; sunsets that make the sky appear as though it's on fire, and enough to make you pull over on the side of the road to snap a photo and document the moment, because if you don't, it's as if it that sunset didn't happen. And that's a crime, in my book.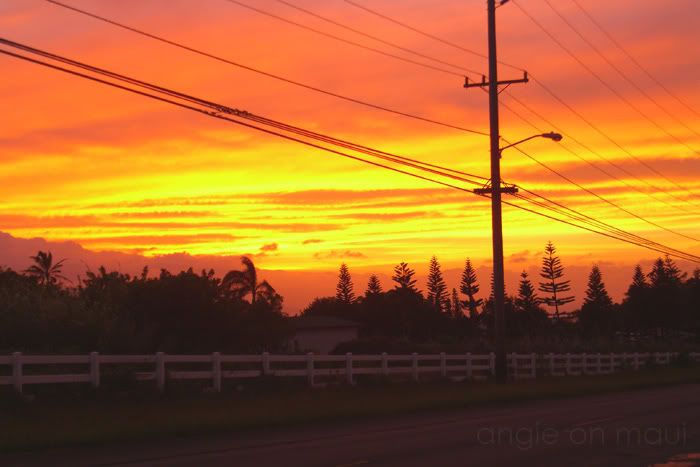 This was Saturday's sunset. We were on our way to dinner and I couldn't resist this photo op. And I'll have you know that as much as a fan I am for editing photos, this particular photo is straight off the camera. No editing necessary. Well ok, except for the watermark.
And for anyone interested, that night at dinner, I ate my weight in food. Enough so that I could not resist tweeting:

And while on the topic of Twitter...'follow me?