Yesterday began under the guise of any normal day, but by 9:00am it was anything but. It was one of those days when the apparent mission of the Universe was to teach me a lesson, testing me to "walk the walk" and Live Aloha like I so often write about.
Blogging is what you make of it; you get out of it what you put into it. When I first started blogging, I promised myself that this blog would be as real as it gets, and I think it's fair to say that anyone who has been reading along since last August would agree. It behooves any blogger to be honest and real. It would be so easy to blog about a seemingly perfect life, but let's call a spade a spade: Life just isn't so.
And while I don't want this space to breed negativity, I will say that yesterday was definitely one of my least favorite days. It does help, however, to have a husband who knows how to cheer his wife up: bring her a tub of frozen-yogurt with mango and mochi, and all is well in the world again:
It also helps when said husband, at the end of the day, reminds you "not to sweat the small stuff", and then invites you out on the deck to catch a glimpse of the sun as it made its descent over the mountiains, leaving a brilliant sky in its wake: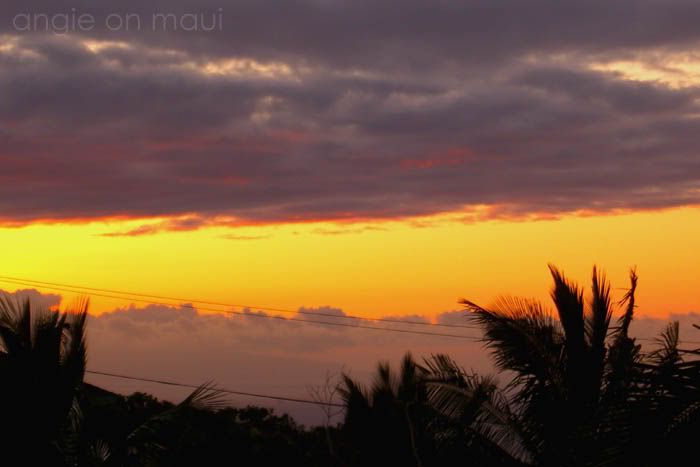 Sunset Sammich.
So, yeah. Yesterday didn't necessarily go down in the books as one of the best days ever. I had a seriously bad hair day, I was feeling particularly unattractive because I ran out of contacts and had to wear glasses, I was kind of bitchy to the man on the phone whose company STILL has not shipped Phil's birthday present that was ordered two weeks ago, I am slammed at work and I'm struggling to find motivation in several areas of my life, but really...those are just minor details in the grand scheme of things.
I know that I am blessed and Life is Good.
* * *
What pick-me-ups work for you when you're having a bad day?