I've lots to share here on the blog so I'll try to break it down into bite-sized pieces. Tangent: is it just me, or did anyone else go through withdrawals when Blogger went down last week? I was a hot-mess over here but checked myself when I remembered that this is a FREE service I am provided and can't I just give the Blogger Staff a break? Thank you, Blogger Peeps, for restoring my last post! Now pretty please, can you also do the same for all the comments from my lovely friends and readers that were eaten as well? Kiss-kiss!
I slept in this morning until 8:00am and it felt heavenly; Phil was already awake and coffee was brewing, so I laid in bed and he lovingly brought me my laptop so as to enhance my lazing-experience. It was bliss. :) I may or may not have laid around in bed until 11:30am catching up on email and reading blogs. Oops.
I finally got my butt in gear and headed to the gym to get my run on. I am overcome by motivation and inspiration in a number of areas in my life, so I am happily holding the reins and riding along. After 1/2 hour of strength training (which I am in dire need of - more on that, later), I hopped on the treadmill and ran an amazing 5-miles at a steady 9:05 pace. I felt awesome (so awesome that as I am typing this post, I am in the mood to lace up my shoes and go running again); it feels SO GOOD to be back in the running saddle again. I was so high from the surge of endorphins that it didn't even bother me that I had to go back into the locker-room to swap out my dead iPod for my iPhone and a new set of earphones. And while on the subject, I think something is wrong with my ears. They have a knack for ruining earphones; they destroy them, if you will.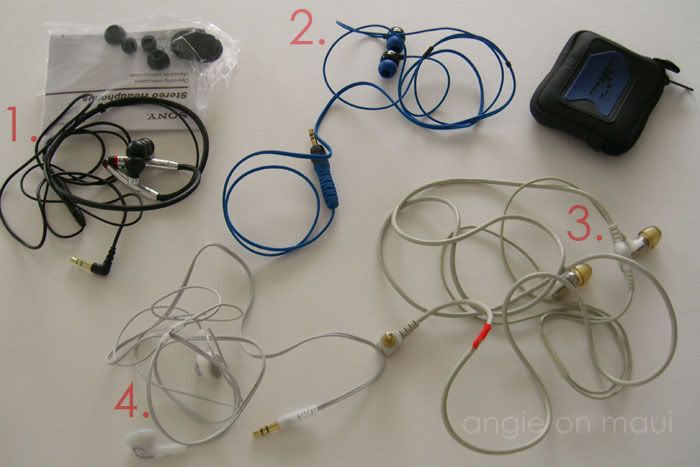 [Exhibit A: 4 pair of NON working head-phones I had stashed in the side-pocket of my gym bag (yes, I have since cleaned out said bag)].
I don't know what to make of this. Either I have the worst luck with earphones, or I have hungry, angry ears. So for now, until I can get a replacement for my favorite pair of headphones (#1 - Sony), I have to resort to a back-up, back-up pair. Booooooo. But it's all good, because I got a great workout in today and I'm still flying high.
I left the gym and did AAAAALLLLLL the grocery/house shopping for the next two weeks (this involved three separate stops, so my day was full) and now our cupboards and refrigerator are fully stocked. And this is where the accountability factor comes in.
While cleaning out my wallet the other day, I looked through the fistful of receipts I had been hoarding. To my surprise, 80% of them were from Whole Foods, for numerous lunches and mid-day snacks. And while I'm being honest, I will admit that I am a horrible wife and rarely pack lunches for my husband. :( As such, I make these daily trips to buy lunch for us and deliver them to him down the hall in the middle of the work day. Seemingly innocent and easy, right? Out of curiosity, I added up the totals from each of these receipts over a two-week period and I was MORTIFIED.
HOW is it possible that I can spend so much in one place over a span of TWO WEEKS? Seriously. Do you want to know how much I spent at Whole Foods in the last fourteen days? ** Phil: avert your eyes. Scroll down. And remember that I love you! ** I spent almost $220. ON LUNCHES AND SNACKS. Blasphemy!
So I am challenging myself for the next two weeks: NO BUYING LUNCHES OR DINNERS - and I am putting this in writing so that I can be held accountable. Armed with my shopping lists today, I bought groceries (and spent less than I did at WF) that would allot us enough lunches/dinners for the next two weeks...and all healthy, to boot! I stocked up on fish, chicken, fruits, produce and all the "extras" that make my salads heaven (spinach, olives, cranberries, walnuts, almond slices, etc.)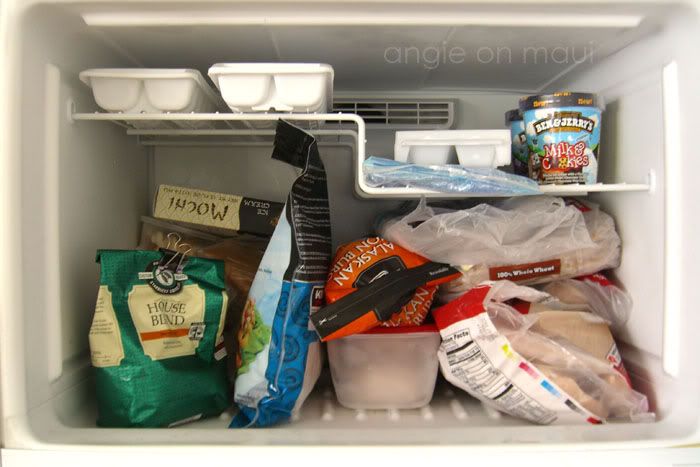 Just throwing in the visuals because I know you all wanted to see the contents of our refrigerator and freezer. :) And yes, that is Mochi ice-cream and B&J that you spy. The Hubs' still needs his treats, you know. Ok, I lied. The Mochi ice-cream is really for me. But the Ben & Jerry's is really for Phil. :)
* * *
Well, so much for bite-sized! This post is long enough, so I'm going to sign-off for now. Dinner, my husband and reruns of The Office call. Hope you all had a wonderful weekend!