My Momma lives in California. I get to see her beautiful face every Sunday via Skype calls, but I still miss her like crazy. Living ~2,500 miles away from her has always been challenging, but it is especially difficult on days like Mother's Day or her birthday; I find myself wishing I were a kid again, back at home and bounding into my parent's room early in the morning with my handmade cards and gifts, ready to begin the day-long celebration that is all about her. Memories like these have a way of making me feel safe and remind me of all the comforts of home, where I was wrapped in a cocoon of childhood security and innocence. These memories are like slipping on a pair of old, worn-out shoes and remembering instantly just how comfortable and good and familiar these shoes feel under your feet.
My childhood feels so long-ago and far away, yet thoughts of my Momma bring me back to my younger years, when Life felt so big and scary and uncertain, and nothing could make me feel as brave and protected and loved the way holding my Momma's hand, or feeling her arm around my shoulders did.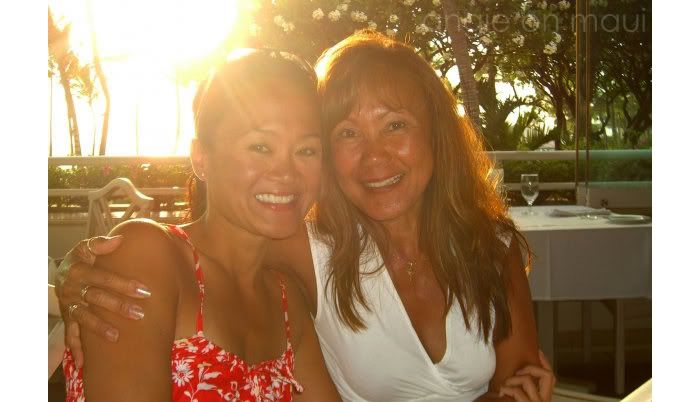 Grown as I am, when I am around her, I still enjoy the opportunity to regress a little. I love snuggling next to her and feeling her instinctively run her fingers through my hair, pulling it gently into a braid or a ponytail...just as she did when I was little. I love that I can hold her hand not because we are crossing the street, but because holding her hand makes me feel deeply and literally connected to her. I love that despite my age, she still forces me to eat whatever she puts in front of me; except that now, I am no longer fighting her and working the gag-reflex card to my advantage. Instead, I feel loved and cared for, because my Momma is feeding me. And that's what Mommas do...they feed their children.
I am much taller than her now, but I love that to this day, she still makes me feel like her little girl again.
I love you and I miss you, Momma, but am counting the days until I see you again - SOON! Thank you for the beautiful and selfless person that you are and for the love and joy you bring to our family. Happy Mother's Day!
* * *
...and a Happy Momma's Day to all of you, my friends (furbabies count!). Wishing you a day filled with sunshine and love!