I came home and walked up the stairs to our front door when the late afternoon breeze carrying the unmistakable scent of bananas wafted under my nose. Random, I thought. I turned on the landing and from the corner of my eye I spied a delightfully bright bunch of bananas resting proudly against the white banister of our deck. Produce? Here? Confused, I walked over to the rich, bundle of fruit and immediately smiled:
Sweet, Hawaiian bananas.
We are very fortunate and have lovely neighbors; there is something to be said about the feel-good, slightly hippie-ish vibe of living upcountry, where there is room to breathe, the pace is slow and smiles flourish. In the two years since we made the move from our tiny, South-side condo on the beach to our little home upcountry, my love for the simple, island lifestyle has magnified, ten-fold. To have thoughtful neighbors who want to share the literal fruits of their labor is priceless; it is a lifestyle we were not accustomed to while living in Silicon Valley, where corporate demands left little in the reserve-tanks for neighborly love.
As instructed, we helped ourselves. And while I am known to be meticulously picky when it comes to scrutinizing the ripening stages of bananas, Phil is much more forgiving and will eat them at any stage, so long as they aren't brown and riddled with fruit flies.
So what's one to do with multiple hands of bananas? Why, you break (and bake) bread, of course!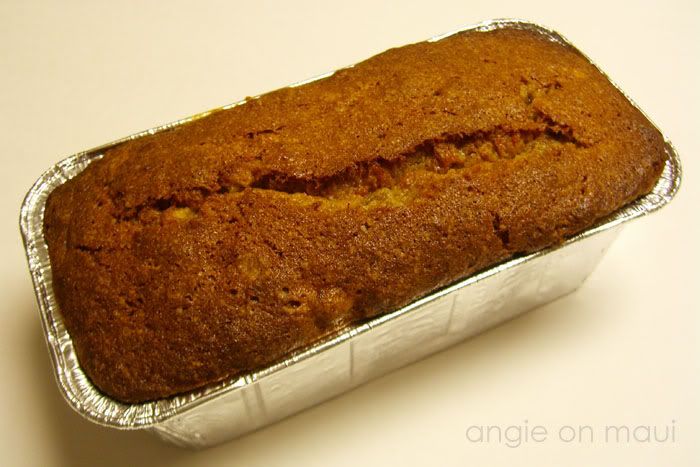 I'm not much of a baker, but to my husband's absolute delight, I decided to bake two loaves of banana bread. We kept one loaf for ourselves and I sent Phil over to the neighbors with the other warm loaf, wrapped carefully in tinfoil.
This is only the second time in my life I've made banana bread (gasp!) and for the novice that I am, I must say that it turned out mucho delicio-so. I preemptively tweaked the recipe a bit and ommitted the walnuts, as I cannot get my husband to eat a nut of any kind to save my life.
Recipe for Hawaiian Banana Bread:

3 cups all-purpose flour
3/4 tsp. salt
1 tsp. baking soda
2 cups white sugar
1 1/2 tsp. ground cinnamon
1 cup chopped walnuts (optional)
3 eggs, beaten
1 cup vegetable oil
2 cups mashed (very ripe) bananas
2 tsp. vanilla extract
1) Preheat oven to 350 degrees. Grease two 9x5 inche loaf pans.
2) In a large mixing bowl, combine flour, salt, baking soda, sugar and cinnamon. Add walnuts (optional), eggs, oil, bananas and vanilla. Stir just until blended. Pour batter evenly into greased pans.
3) Bake at 350 degrees for 60 minutes or until a toothpick inserted into the center of a loaf comes out clean. Cool in the pan for 10 minutes, then remove to a wire rack to cool completely.
4) Cut, eat and enjoy the happiness, smiles and gratitude from your husband and neighbors. :)
All this creativity in the kitchen as of late, and I am scoring some MAJOR points with The Hubs!