'Morning, friends. Today, I'm hanging out over at the lovely Jenni's blog...perhaps you already know her? Of course you would! She's the beautiful author of the lifestyle-turned-fashion-and-photography-blog, Story of My Life.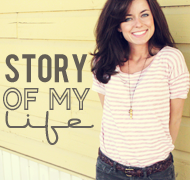 I am one of "7 Stories from 7 Bloggers" and I am guest-posting while Jenni is away on vacation; if you're not already a reader, be sure and check out her blog...and then come back and try and tell me you're not hooked. ;)
Have a beautiful day!