Click here if you missed Part 1 (the drive to Hana).
We left Wai'anapanapa State Park and within minutes, had finally arrived in the small, quaint town of Hana. It is a quiet town, with tiny, Mom and Pop markets miles apart from one another. There is no sense of urgency here, and the people of Hana truly live on "island time". Many of the residents are self-sufficient and make a living on farming, selling their produce to local markets. Driving through this sleepy town, there is a tangible sense of ease; Phil and I are in agreement that if money were no object and we didn't have obligations to fulfill, living here would be ideal.
We didn't stop in Hana this time, but drove a bit further and decided to pull over at Koki Beach; a tiny cove protected by a wall of rocks and red dirt that boasted waters multiple shades of Carribean Blue. It was breathtaking: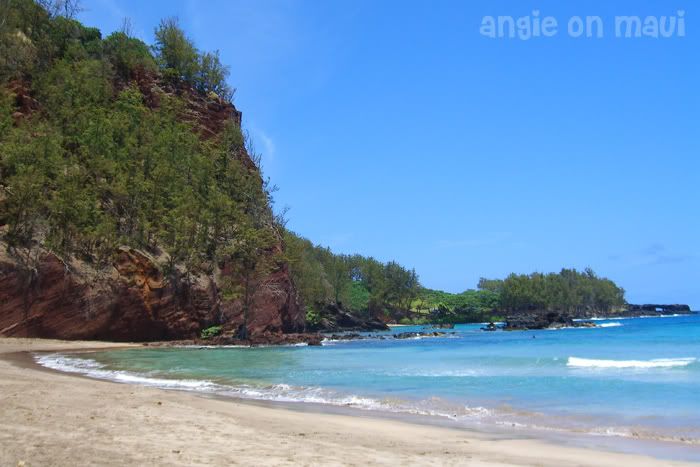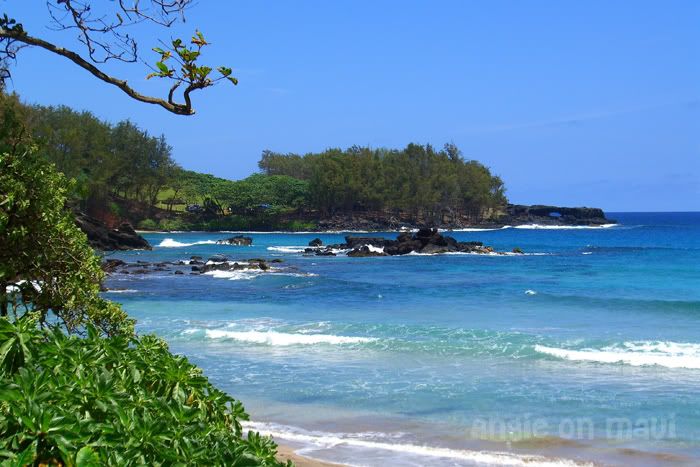 Once at the beach, we both took our respective camera equipment and did a little exploring, taking photos and trying to capture this beautiful and remote location. The beach was nearly empty, save for the small family playing in the surf. And what a tiny island this is, for the family I am referring to was actually a friend of mine, who was escaping the busy-ness of "town" and decided to make the trek to the East side with his friends as well.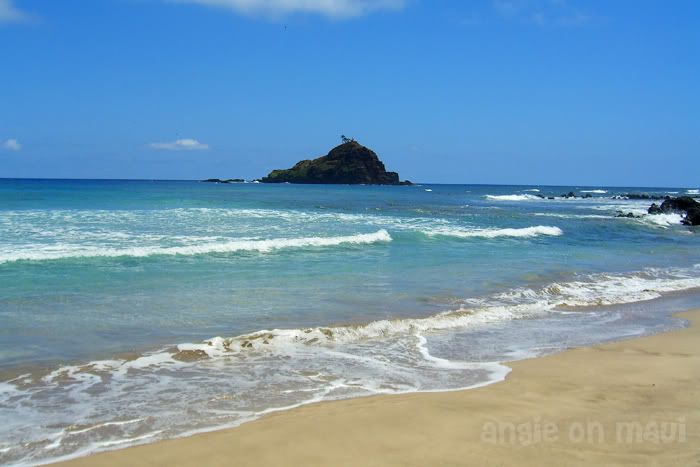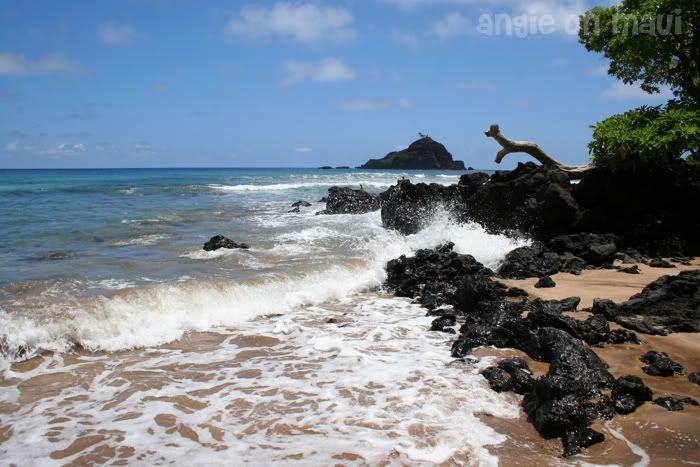 We spent about an hour at the beach before deciding to move on; we wanted to break for lunch in Kipahulu, where we had plans to go for a hike and then take a dip in the Seven Sacred Pools. I was running out of steam at this point, but we pressed on, determined not to stray from our agenda.
We made it to Kipahulu and the East entrance of Haleakala National Park, where we parked ourselves at a picnic table under the shade of a big tree, scarfing our sammiches and bottles of water. This meal never tasted so good; we were famished, and it was HOT. With food in our bellies and water to hydrate ourselves, we packed up our coolers and then got ready for a mini hike: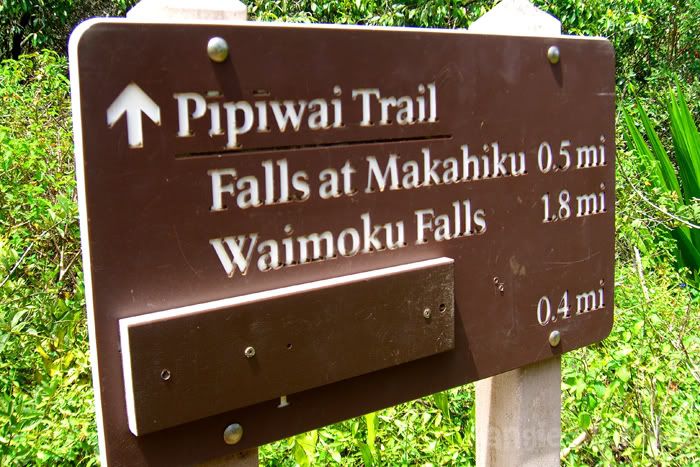 The air was heavy, stifling and oppressive; we were both quiet during the hike, out of breath and worn down from the heat. The hike suddenly seemed endless, because there were lots and lots of this:
Dirt paths, uphill, with no end in sight. After what seemed like forever, I was ready to turn around...I just wanted, no, needed to get myself into water. But we foraged on and finally reached the first lookout, 1/2 a mile in: Makahiku Overlook.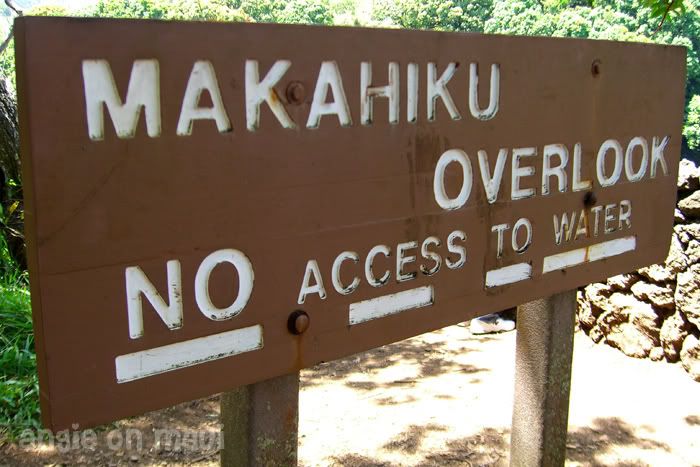 We stayed long enough to take photos of the prize: the long, sought-after waterfall. It is difficult to put into words just how amazing it is to take in a piece of beauty that is both this secretive and pristine; a reminder that we are small and that out there, exists something bigger than any of us can imagine.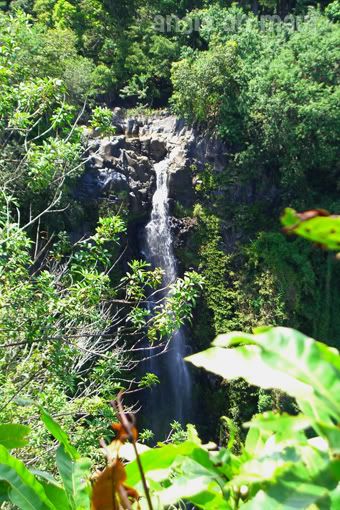 We shared a moment of joint reflection, marveling at this sight, only to be interrupted by the man who almost plummeted to his death, insisting on standing on the rock wall in an effort to get a better view of the falls (I nearly had a heart-attack). Clearly, he did not take heed of the numerous signs: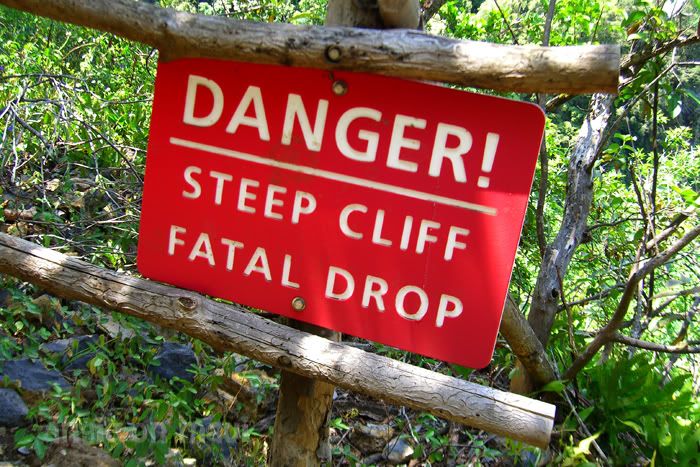 After I could take no more of the sight of this man balancing precariously on the brink of safety and death, I urged Phil to head back down so that we could finally take refuge in the cool waters of the Sacred Pools. We headed back down the trail, while I took photos along the way.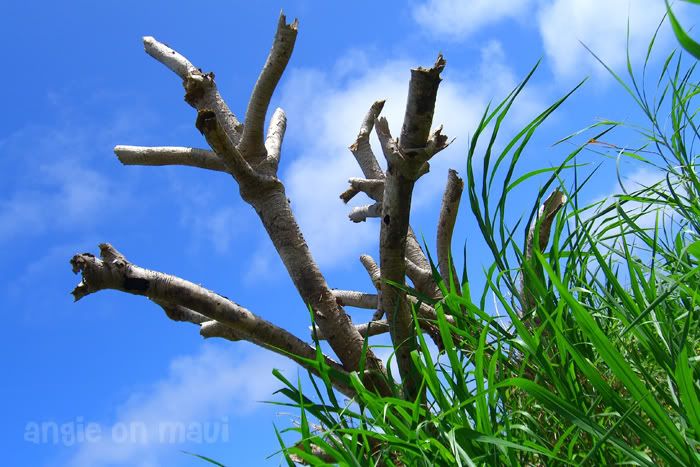 I followed Phil, who, in total Man-Mode, decided he needed to take us on a "short cut". And by short cut, I mean, a route off the beaten path; a route that required us to crawl beneath chicken wire: a route that required Phil to hold back large arms of brush, while swatting at and breaking massive spider webs before us. I was NOT happy about this. I whined and I pouted, muttering under my breath that I would never forgive him, because we were destined to be bitten by poisonous spiders and left to die in isolation in the middle of who-knows-where. Always the optimist, he promised that we were on the right path...and it wasn't until I saw another couple that he was on my good side again. We eventually found ourselves back on the main trail of civilization, and shortly thereafter, we had made it: the Seven Sacred Pools.
First dip in these infamous waters: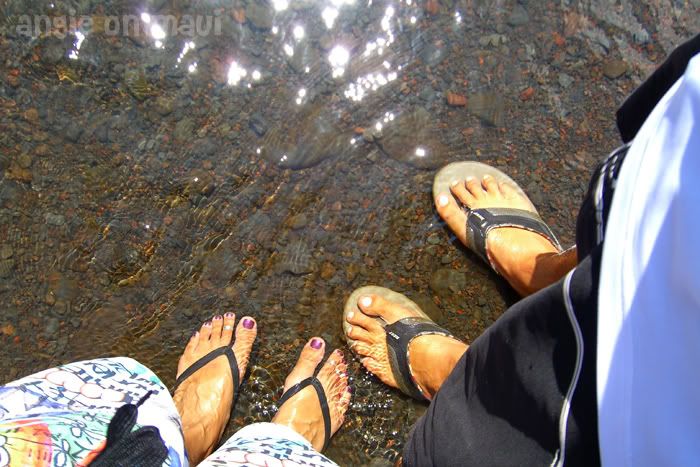 The water was cool and inviting...every ounce of anxiety was immediately washed away, and all I could think about was shucking my backpack and diving head-first into the pools...
* * *

Up next: The Road Less Traveled: Part 3...