Without a doubt, one of my absolute favorite things to do is to spend an afternoon in the bookstore, armed with a handful of magazines and books and an iced, nonfat-white-chocolate-mocha perched expectantly on a side table, the cup dimpled with circular beads of condensation. Afternoons like these are lovingly referred to around these parts as Solo Dates: just me, my coffee and a stack of good reads. At least once every couple of weeks, I carve out a few hours to slip away from reality and immerse myself in whatever my mood calls for. On some days, I am fervently flipping through photography or art books, driven by the visual inspiration and jotting down notes along the way. On others, I'm absent-mindedly leafing through garbage (ie: the latest tabloid magazines) oogling over the latest handbag and jewelry trend, or getting my fix on celeb gossip (Emily & Brad, anyone? Am I the only one actually rooting for these two?). Phil is forever teasing me, unable to understand that these Solo Dates epitomize The Art of Doing Nothing; they are hours of "Me Time" that I so cherish.
These Solo Dates are spent at the Borders megastore right in the middle of town; it's close enough so that I don't feel guilty making a special trip just for this simple indulgence. I have come to really love and appreciate these afternoons, filled with hours of quiet and leisure and always leaving me feeling relaxed.
So imagine the great sadness that swept over me when I learned that this haven of mine, this building that houses a leather chair in the Reference Section with an ass-print all my own, is closing. Waaaaaaahh!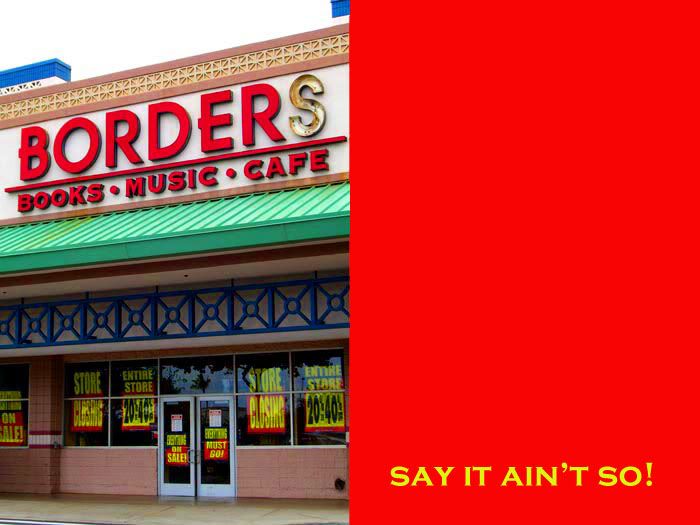 I received an email about the store closure last week and when I pulled into the parking lot over the weekend, it was confirmed. And I'm really, really sad!
The vibe in the store was chaotic and not at all what I am accustomed to; there was a line a mile long, signs--that SHOUTED at me in their affirmative fonts--hanging from every square foot of the ceiling. It was a zoo. And the cafe section where I normally make a beeline for my caffeine fix? It was dark and desolate, the counters naked, bare...and sad. I rounded a corner and literally bumped into Bill, one of the employees I have come to know and love over the years; the man who refuses to let his special needs hold him back. The man whose sweet and peaceful demeanor has taught me patience over the years. I hugged him and told him I was sorry that the store was closing and that I would miss seeing him. I asked him what he was going to do and his answer made me smile. "First, I'm going to sleep for a week. And then after that, I have to believe that everything will work out." Amen to that, Bill. Amen.
Not one to miss out on cashing-in and saving a few bucks, I stocked up on the books I've had on my wish list for a long time. And by the looks of my purchase, I'm set.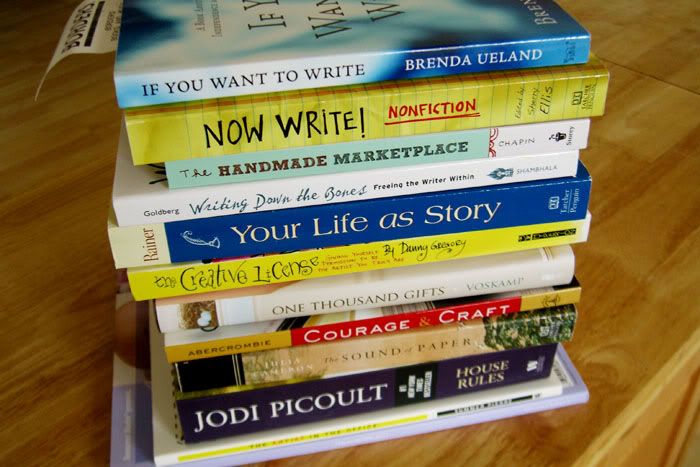 I know it sounds silly that I'm actually allowing myself to feel sad about the closure of this store, but it goes beyond my own selfish reasons; sure, I will miss the hours of "escape" I have logged here in the last few years, but I'm sad for the store. I'm sad for the employees; for Bill and for the cashier who started to cry when I told her how sad I was to see them go. Times are hard and jobs are scarce these days. I worry about what these people will do to make a living.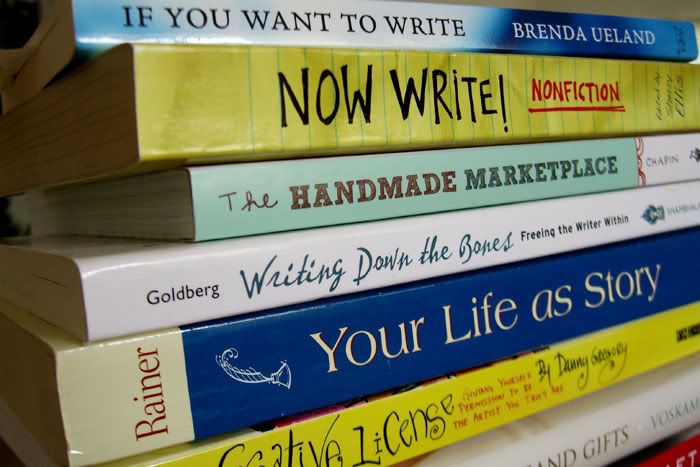 So yeah. I'm sad...I'm sad that my go-to bookstore is closing. And while there is still a Barnes & Noble on the West Side, it's a bit of a trek and not a visit I'm sure I'll be making on a whim. Not with the AWESOME gas prices of today! I would feel guilty making the half-hour drive to the West Side just for a few hours of peace and relaxation, when there are so many other little escapes within reach.
And so, this closure forces me to step outside my little bubble of predictability. To stretch beyond my comfort zone of familiarity and find peace and relaxation through other means.
I will explore the nooks and crannies of this island. And I will take you with me.
Are you in?