Hello, Friends...happy Tuesday night! I hope you're all having a great week so far. I wanted to take a minute to thank you all for your beautiful and thoughtful comments on my last post; your commiseration was comforting and I am encouraged that so many of you found the post helpful and more importantly, inspiring. After reading your comments, it was made clear to me that we all experience similar thoughts in varying degrees; so let's make a concerted effort to remind ourselves--daily--that we are all perfectly imperfect. Embrace this fact. LOVE yourself. You are unique. You are gifted. You have something special to offer to the world. SHOW US. And be sure to offer support and encouragement to those who might need it, ok? Finally, if you get the chance, please make time to visit my beautiful friend Ruthy Ann at Discovery Street to read her eloquently written post about this topic.
Moving on!
Back when I started this blog, I told myself that this blog would be for me, and that I would write...for me. I have kept that promise to myself, but in doing so, I've also found that this blog has given back to ME, in so many ways. I am the recipient of so many gifts; the gift of clarity, love, joy and patience. More importantly, I have received the gift of friendship from so many of you. And so...in the spirit of giving, this is my opportunity to give back to YOU. I've been wanting to write about this for a few reasons: to celebrate the 6-month anniversary of a blog that, in the beginning, I wasn't sure would "stick"; to celebrate 100+ posts, and finally, to celebrate the friend I have found in EACH OF YOU. I have come to know and love so many of you beautiful souls and kindred spirits. My life is richer because you are in it. Sincerely.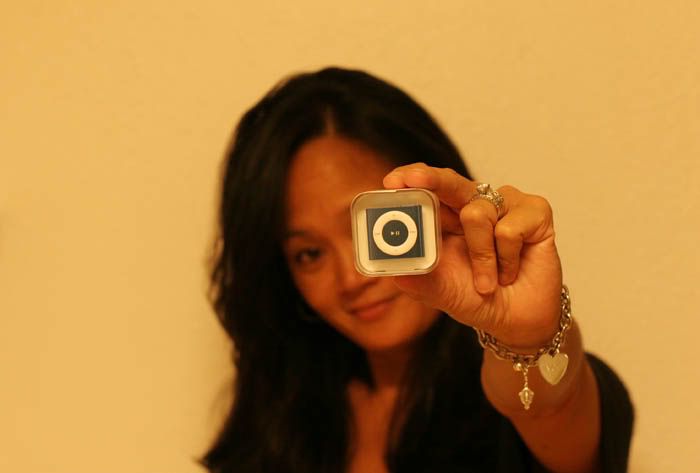 (Photo courtesy of The Hubs!)
Wanna win an iPod Shuffle? Here is your chance! I won this Shuffle in a marketing contest through my work; the thing is, I already have an iPod AND iPhone in perfect working condition. It seems almost silly and redundant to keep this when I can "gift" it to someone else.
And so, my friends...this is where YOU come in. Enter the giveaway for this (BLUE) iPod shuffle and an iTunes Gift Card so that you can start downloading music for your listening pleasure. :)
You have multiple chances to win!
TO ENTER:
*** You don't need to be a follower of my blog to enter, but I would love it if you were. ***
(1) Leave a comment on this post and tell me the name of a song that truly MOVES you. I'm all for discovering new artists and new music, so please share with me your favorites! NOTE: I am looking for new, upbeat, "girl-power" workout/gym music...what song motivates you?
(2) To increase your chances of winning, post about this giveaway on your blog, come back here and leave a separate comment with a link to that post.

This giveaway will run until 12:00 Noon, Hawaii Time (that's 5:00pm for you East Coasters) on Tuesday, March 15th. Winner will be selected via random.org, and the winner will be announced on Wednesday, March 16th.

Giveaway aside...thank you, thank you, THANK YOU, for being a part of my life and this blog.
Love & Aloha to all of you! xoxo!
So excited to hear your artist recommendations! Good Luck!
EDITED TO ADD: OK, it seems that many of you already own an iPod/shuffle. You are still free to enter the giveaway...surely there is someone in your life who could use one of these, no?
* * *