This is just a quickie post to thank two, new blog friends of mine who recently passed this award on to Living Aloha: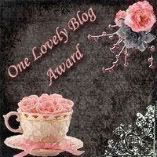 Mahalo, Janice at Roller Coaster Ride and Lay at The Next Chapter for the blog love! Right back atcha!
* * *
I'm spreading the love and sharing with you three blogs that I enjoy reading. Please take a minute to visit these friends of mine and read what they have to say!
(1) Jessica at Where is my Instruction Manual (super-cute blog written by a super-cute mom, with lots of photos of her super-cute girl!)

(2) Melissa at Champagne Wishes (Melissa has a heart of gold and is seriously one of the nicest girls you'll ever meet!)
(3)Shalyn at The Nelson Diaries (a feel-good blog written with humor and filled with beautiful photographs...and be sure to check out her photography blog, too!)