This is an especially difficult post for me to write, for many reasons. It is a post that has been brewing for many days now, but one that I have hesitated to write simply because I am caught between the conflicting space of wanting to inspire, yet feeling like a fraud. And that's just the tip of the iceberg.
There is a part of me that feels unqualified to write about Beauty and a Positive Self-Image, because I can say with conviction, it is a quality and thought-process which I do not whole-heartedly possess. And I wonder, if I am lacking in this area, what business do I have to write about it? But this is where I will jump to my own defense and say that despite my being a poster-child for self-deprecation, I've also never claimed to be anything more than a work-in-progress. Recognizing my own beauty, value and self-worth has always been an area where I am the most challenged and although I have learned so much over the years, there is still plenty of room for growth and improvement.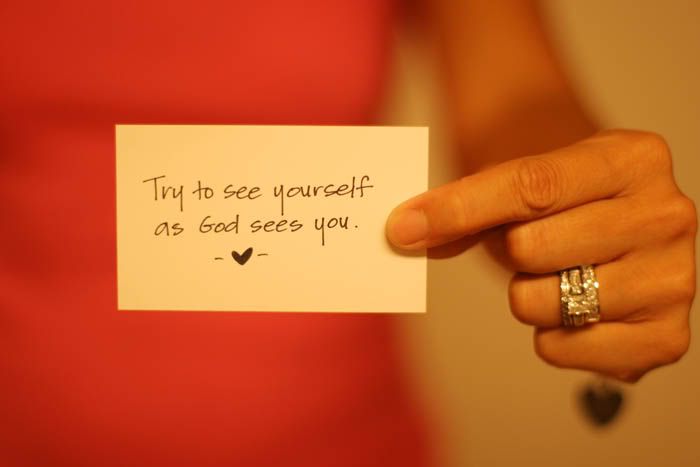 [a card I have taped to my mirror, alongside another reminder: "It's YOU vs. YOU."]
The desire to write about this stems from my ongoing struggle with my body and the incessant and nagging issues with regard to my weight and my eating habits. For some of my more seasoned blog readers, you might remember when I wrote about fracturing my foot days before I was supposed to run the Maui Half Marathon. Back in September, I felt like I was on top of my game, fitness-wise. For the most part, I was eating healthy and working out daily, but this injury put a cease-fire to my workout routine and consequently led to poor choices and a sedentary lifestyle.
I am an all-or-nothing kind of girl. I'm either 100% in, or 100% out. I've either got it dialed, or I'm living life haphazardly, foregoing veggies for French Fries with Mayonnaise (yes, I am that girl). Fortunately, the new year and a renewed sense of purpose has given me the motivation I've needed to make necessary changes in our diet and exercise. On the whole, we are eating better and exercising more, but despite all this, I am still feeling discouraged and defeated.
We are always our own worst critic and as such, it is so difficult for me to see beauty in my own reflection. It is so easy for me to believe the negative voice in my head, because it is a voice that is all-too familiar and one that has been present for more than half of my life. I see myself with intensely critical eyes, always finding where I am, to be short of where I want to be. Always feeling...less than. It is an exhausting way of life and one that makes me sad. Sad for the girl in me who loves; the girl in me who finds it incredibly easy to see the beauty in others, yet fails to see the gifts which God has given her.
I don't know that I will ever reach the point where, instead of seeing a flawed reflection in the mirror, I will see beauty and perfection, because I am created in His image. I don't know that I will ever reach the point where I can walk with total and complete self-confidence, knowing that I am who I am, and that I am enough. But I do know that I can continue to work towards this goal, because I want so much, so badly, to find this kind of peace.
Being the all-or-nothing girl that I am, there have been the expected ebbs and flows of self-love over the years. Seasons of confidence and self-assurance have been washed out by seasons of inferiority and self-doubt. And as unpredictable as this cycle may be, I am still predictable, in that I am always striving to overcome. I may be two steps forward or two steps back, but this experience makes me a little stronger and a little wiser every time.
At present, I'm on an upswing. I'm trending more towards the positive as I'm seeing changes as a result of eating healthier and working out. I feel happy. I feel alive, alert and aware. And while I am still trying to curb my obsessive desire to weigh myself daily and not read too much into "the number", or to count calories in vs. calories out, I'm allowing myself to rejoice in the little accomplishments. Like seeing shadows that promise the return of a six-pack. Or feeling just a teeny bit more confident in donning a brazilian bikini at the beach (and it helps immensely to have a husband who loves that I have a little junk-in-my-trunk). Above all, I am making a conscious effort to see myself the way God sees me.
I am not always successful and I continue to have challenging days that test my resolve, but I am making an effort and I am trying. And when I need a little extra push, I look back to my old journal entries and old art vlogs when I was at my peak, riding high on positivity and self-confidence. The good days.
And I resolve to have more of these.
* * *
WE ARE ALL BEAUTIFUL IN OUR OWN, UNIQUE WAYS. Believe this.
Come take a peek at two of my old art-journal entries:

* * *

Have a lovely Saturday evening, friends!