Whale Watching.
If you ever visit Maui during the "winter" months (Dec - March), do yourselves a favor and book a whale watch cruise. Watching these amazing creatures from the shoreline is one thing, but in a boat and out on the water? The experience is indescribable. Trust me on this.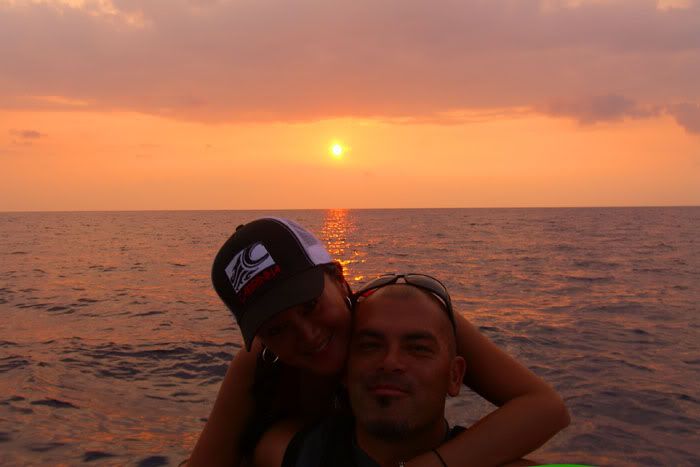 Yesterday, we met up with some friends for an afternoon out on the water in their Bayliner; it's been a relatively "quiet" whale season, so we would consider ourselves lucky if we were able to spot a few calves and their Mommas during our cruise. We launched right out of Ma'alaea Harbor and were not more than half a mile out when we spotted our first whales. The calves were breaching in their clumsy, still-not-completely-graceful ways, Mommas were gliding along fluidly next to their young, and escorts (the males) kept watch by bringing up the rear of the pods. It was beautiful.
To be out in the middle of the ocean in a small watercraft, surrounded by these gigantic creatures is exhilarating. To be close enough to hear the air spew from their blow-hole and watch the mist vaporize before your eyes is something to behold. It is a beautiful, surreal experience. Our first sighting made my pulse quicken and my heart flutter. God is GOOD.
This is a short video clip that officially made yesterday, February 13th, one of my best days on Maui...EVER. It was shot with my trusty little point-and-shoot so the quality isn't great but I think it captures the moment, don't you? (and you might want to turn your speakers down a bit...we're a rowdy bunch)
AMAZING, RIGHT?!
I have so many photos that I would love to share; as beautiful as they are, they pale in comparison to the video. Perhaps I'll do that in a separate post, as I'd still like to share Phil's video that he captured on his wide-angle camera.
In Sunday morning's post, where I wrote about being moody and cranky, I am quickly reminded that when I might feel challenged and anxious about...Life, God can wash those cares away in an instant. Sunday night's whale watch cruise was one such instance. When you immerse yourself in the amazement and wonder of God's playground, how can you possibly care about anything else?
Come to Maui. Let's go on a whale watch together. :)