It began like so: Tuesday morning, we get to work. Phil spends the first couple of hours in the office and then heads to the beach to get some "work" done (he works in the kiteboarding/surfing industry, so this is actually a requirement). The waves are HUGE on Tuesday. Shortly after noon, he calls me on the phone and asks me if I could swing by his office. My wife-ly instinct is at full-throttle, telling me that something is wrong, because normally, he just pops his head in to see me. I make my way to his office where he begins the conversation with: "Now don't freak out, o.k.?" NEVER a good sign.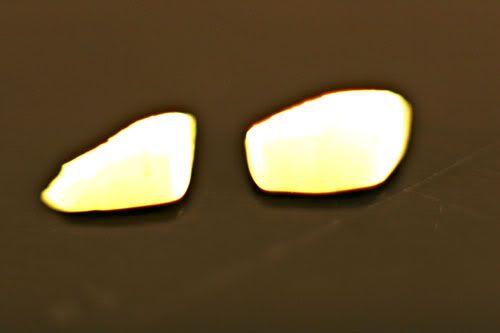 Do you know what these are? Give up? Those would be bits of my husband's TWO FRONT TEETH.
I immediately start crying; not because his grill is now totally and completely jacked up, but because my sweet, adorable husband is (thankfully no longer bleeding) but still in immense pain. While out surfing in the crazy swell, he got caught in the "washing machine" and his surfboard cracked him right in the jaw. I will just gloss over the fact that despite being held underwater for two more waves, once he surfaced, he still had the wherewithal to spit the broken pieces of TEETH into the palm of his hand where he then pocketed them in his board shorts.
To make a long story short, we spent the remainder of the next four hours at not one, but TWO hospitals, because the Doctors wanted to run a CT Scan on him to rule out any head trauma (by this time, Phil was light-headed). The scan came back showing no signs of hemorrhaging (thank God), but something completely unrelated to his surf accident DID show up. While the Doctor said it wasn't something to necessarily be alarmed by, he did want to look into it further, so Phil has an MRI scheduled for next week. My poor husband.
Once we got clearance from the hospital, only then would the oral surgeon see Phil. The oral surgeon had to push two of the three teeth back into their sockets, because the impact of the board had hit his jaw so hard, what was left of the teeth were actually dropping. :::shudder:::: Imagine how good that must have felt!
Now that the teeth were stabilized and cemented with wire (very much like having braces), our dentist was able to see him. We had hoped that they would be able to work their cosmetic magic all in one visit, but no such luck; it's going to be a much longer process than we expected. They completed the first of three Phases, so while my husband's grill and the adorable, boyish gap between his two-front teeth aren't yet 100%, fortunately, they no longer look like this: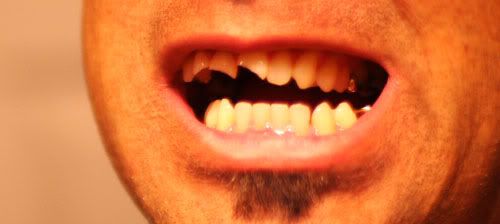 (PRE oral surgeon and dental visits)
It's SO hard to see Phil in pain; he's been on a liquid diet for a few days, although he did manage to eat some pasta I made for him tonight. I'm sad for him, but I am also SO grateful that his accident resulted in only a few knocked-out teeth. Things could have been worse. SO MUCH worse. I cringe at the "what if's"...if the impact were only a few inches higher, he could have lost an eye or suffered a massive head injury.
Perspective.
And lest you all think I'm a horrible wife for posting these photos, they ARE Phil-approved. Apparently, getting your teeth knocked out all in the name of surfing is like a badge of honor or something (he has two friends who have similar stories).
So...yeah. It's been a stressful last few days...and I'm all kinds of cranky as a result. I am SO ready for the weekend.
Please say a prayer and think good thoughts for Phil's MRI next week. I won't lie, I'm worried. :(