I'm feeling a little guilty; now that I have completed my 29 Gifts: How a Month of Giving Can Change Your Life project and not feeling the pressure to post, it seems I've been slacking in the posting department. Being that it is a quiet and leisurely Sunday afternoon here in our home (The Hubs and I aren't football people - GASP - so we aren't watching the Superbowl) I wanted to get on here to write a proper closure to this project because in many ways, I really feel like this challenge has changed me. And as such, it has changed my life...for the better.
"The best way to find yourself is to lose yourself in the service of others."- Gandhi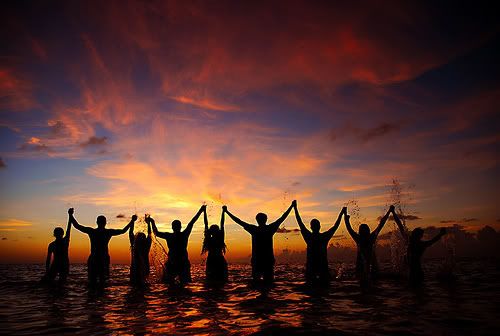 When I first started this challenge, I did so with my little brother Nick in mind, and I dedicated my first gift on Day 1 to him. The timing of this project aided in my healing process; it helped me to find the positive in every day, when I could have otherwise easily wallowed in the negative. About halfway through the challenge, Phil and I had a thoughtful conversation about it; I realized that I was so involved in the act of giving to others and writing out my daily gratitude lists, that I didn't have time to think of my own sadness and pain. And when I spoke these words during our conversation, I kind of surprised myself, because it is 100% true. I have felt more joy and love in my life in the last 29 days than I did even before Nick's passing.
What I learned on this 29-day journey is that if you live fully, with your eyes, your ears and your heart open to the infinite blessings in each of our lives, you will find it. Everywhere. You will find the inherent goodness that resides in each of us. You will find simple pleasures in seemingly insignificant moments, and you will find yourself living each day with intent. And this, this act of being present in the moment makes all the difference. It is so easy to get caught up in the habitual routine of our days, so easy to live on auto-pilot, going through the motions because, well, that's just how our lives operate and by nature, we like order and predictability. But friends, trust me on this. Give yourself permission to dedicate FIVE minutes a day to doing something kind for someone else. Your gesture doesn't have to be huge or monumental; it can be something as simple as offering a genuine compliment to someone, or returning your empty shopping cart to the cart-return as opposed to ditching it somewhere in the parking lot (let's be honest...we've ALL done it). Your gift is personal because it comes from YOU and it is given with intent towards the greater good. Five minutes...that's all.
Are you in? Will you do that for me? You don't have to embark on a 29-day challenge...just promise me that tomorrow, you will carve out five minutes of your day to do something kind for someone else. Just five minutes. And please, come back here and share your gift with me - I would love to read about your random acts of kindness!
* * *Don't forget to enter my GIVEAWAY! The giveaway ends at 12:00 noon on Wednesday, 2/9/11. The winner will be drawn via random.org.* * *