I have to interrupt my daily 29 Gifts series posts to share something with all of you. In yesterday's post, I touched briefly on the concept that like attracts like and that giving and receiving go hand-in-hand; a cause and effect, if you will.
Last night when I got home from work, I grabbed our mail from the mailbox and headed inside, already lost in the mental archives of the things I needed to do before starting dinner. There was a small package addressed to me bearing a return address I didn't recognize; while my curiosity was piqued, I didn't open it immediately. The Hubs and I were flitting around the house, feeding Grace dinner, pulling out ingredients from the refrigerator, lighting candles and everything else that falls under our nightly-routine list.
When I finally opened the package, I was speechless. Inside the padded envelope was a little blue box; taped outside was a card with a brief message from my friend Michelle, who lives on the East Coast. Michelle and I have never met in real-life (we're online friends from my blogging days over at LiveJournal). When I pulled the bracelet out from its little, velvet pouch, I completely lost it.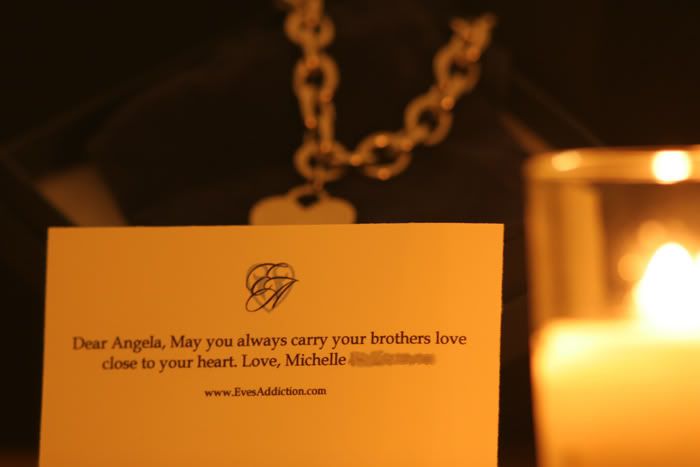 Inscribed on the front was my brother's name: Nick.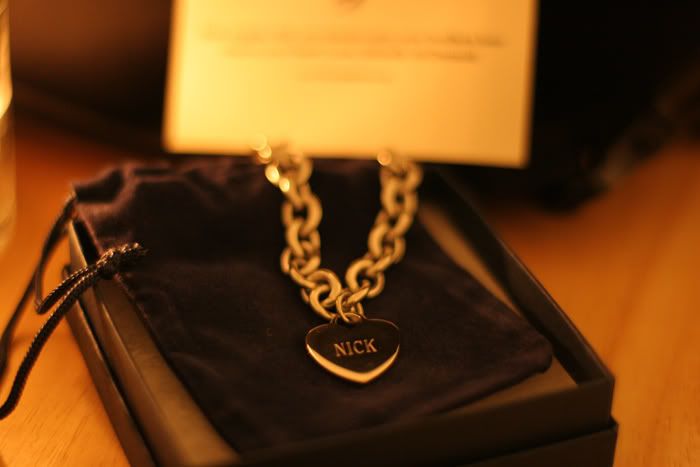 I cried. I was so, deeply touched. And I was grateful that Phil was right there to scoop me into his arms, because when I turned the heart over, I saw my other brother's name: Tony.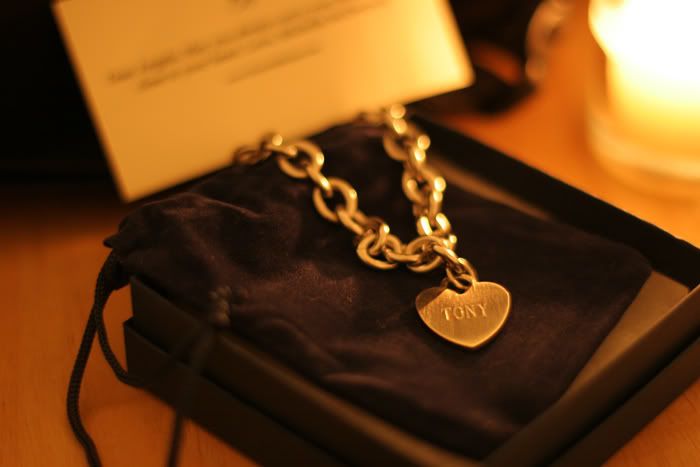 And right then and there, I broke down in what we all know as "The Ugly Cry". Jagged sobbing and snot galore...I'm sure I looked hot.
Without hesitation, Phil put the bracelet on me, and now it dangles delicately from my left wrist, alongside my tiny, silver rosary bead bracelet.

Michelle...thank you for thinking of me, for your kindness and friendship. Your gift means so much to me; I will hold my brothers love close to my heart and will also think of YOU, my beautiful friend who made this a tangible gift. I LOVE YOU.
* * *
"The friend who can be silent with us in a moment of despair or confusion, who can stay with us in a hour of grief and bereavement, who can tolerate not knowing...not healing, not curing...that is a friend who cares."
- Henri Nouwen