Hau'oli Makahiki Hou (Happy New Year)!
Like many of you have already done, I'd hoped to post a photographic Year-in-Review, but my anal-retentive (such a terrible word, agreed?) tendencies have me washing my hands of this idea simply because I am already two days late. So I won't. Besides, a delayed recap isn't exactly cohesive with the theme of this post, right?
Wow. Twenty-Eleven. A new year, a fresh start, a clean slate. If you are anything like me, a new beginning fills you with excitement and anticipation; that wonderful feeling of renewal, much like the enthusiasm I felt as a student in those first few days of September at the start of a new school year. A new beginning so representative of new opportunities waiting to be unearthed, so many dreams waiting to be fulfilled, so many new experiences to be had. So much potential.
If I have but one wish for the new year, it would be this: To Live. To live with intention and with purpose. To maximize each day. To make each moment count. I'm not naive enough to think this will come easily, but I know enough that I'm going to try.
* * *
It rained upcountry today, so we drove into town for a temporary escape from the clouds and spent the day at the beach. I soaked up some much-needed Vitamin D, napped in the sun and spent the afternoon laughing with The Hubs and one of my closest girlfriends.
And then we came home to this: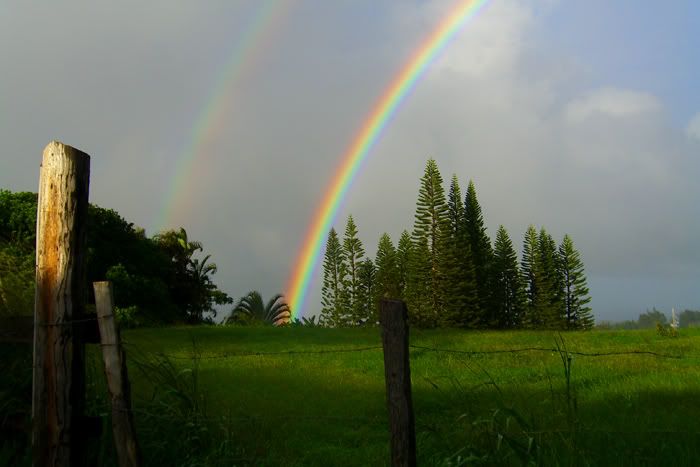 A double-rainbow.
Twice the luck.
2011 is going to be a good year. I can feel it.
* * *