I wanted to post this last night, but a freak lightning storm left us without power for a couple hours and The Hubs and I got wrapped up in a candlelight Scrabble game (which I won, much to his dismay). Better late than never, though...right?
My gift for Day 7: BOOKS!
One of my goals for the new year is to declutter our home and simplify our space. That being said, I'm starting with my overflowing bookshelves and have managed to lighten the load by an entire bookshelf (and the bookshelf itself, we will be donating). The photo below is only part of the collection I donated to our local library and doesn't include a box I sent to a friend on the East Coast.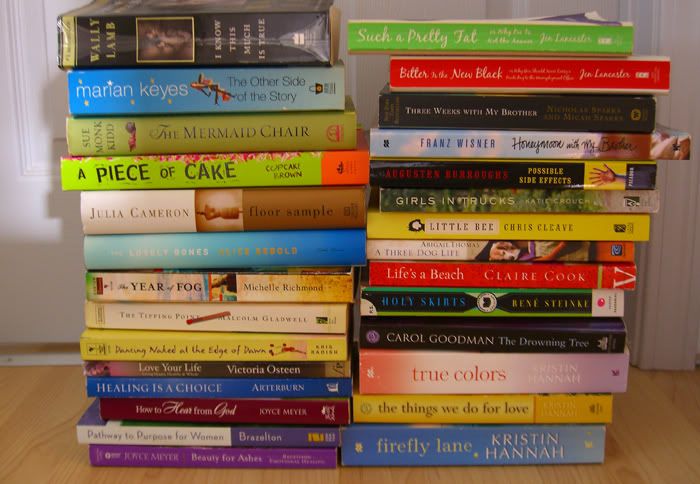 In the past, I have either sold my books online or donated them to the Salvation Army...and in both options, someone profits from it. In the spirit of giving for the greater good, I like to think that donating to the library accomplishes two things: (1) The book will continue to be shared (I love this idea) and (2) I'm doing my small part to help keep the library in business. It's really sad...two of our local libraries have had to cut costs by reducing their hours of operation and closing the library for an extra day during the week. :(
It was a simple gift, but a gift for the right reasons...or at least I think so.
* * *
And I'm curious...does anyone agree that
Wally Lamb
needs to write more often? I recently finished
The Hour I First Believed
; he is a brilliant writer and one of my favorites...but always leaves me eagerly anticipating the next!
* * *
Today's Gratitude List:
1) The thoughtful package we received from Phil's brother.
2) Our friends dog passed away; I am grateful that we were able to spend his last full day with him at the beach, playing together in the sun. :(
3) Rain. Without rain, there are no rainbows.