I will try to keep today's entry short and sweet - I am exhausted and injured, but also fulfilled and content. We spent all day at the beach with friends; my skin is sun-kissed and pink and I'm wiped out from an afternoon of beach volleyball, stand-up paddling and a wave session in a two-man outrigger canoe. I'm sore and I'm tired and ready to call it a night, but I wanted to write about today's gift.
I went a different route for today: my gift for Day 6 was the gift of Time. Imagine: you are at the beach with your friends, you are hypnotized by the rhythm of the waves crashing to shore, the crystal blue water beckons, tunes crank from the iPod docking station, cold beers fresh from the cooler are passed around and multiple activities await. Your mind and body are at ease because the day's To-Do List has only two items: Relax and Have Fun.
So in a day void of responsibilities, when hunger strikes, who wants to get stuck manning the grill in twice the heat, cooking enough food to feed 26 - that's right, TWENTY-SIX - people?
If you guessed nobody, you guessed correctly.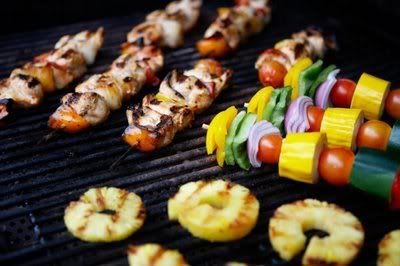 So I stepped up. I spent TWO hours in front of that grill, cooking and feeding our friends. And as much as I hesitate labeling this as my gift, I'm doing it anyway, because I did it willingly, I did it with love, and I did it for Phil, who usually finds himself the appointed grill-master for everyone. This may sound selfish of me, but it brought ME joy to fill bellies with warm food, see The Hubs lounging in a beach chair with a huge smile on his face and watch our friends laugh and enjoy themselves under the island sunshine.
* * *

Today's Gratitude List:
1) Spending a January day on the beach in a bathing suit in 80+ degree weather.
2) Having an abundance of food and realizing just how fortunate we are in this regard.
3) Phil. The guy's just fun. He makes me laugh and he makes me feel loved. And he reads my blog. Every day. :)